Turquoise, crystal clear waters lapping over white sandy beaches, and unparalleled luxury is what will await you at Maldives. Although what I was ready for, was a luxury getaway, I learnt Maldives has a lot more to offer once I got there! Maldives is a series of 26 islands, called "atolls", in the Indian Ocean. The entire series of islands rests on top of an underwater mountain range. That's right… an underwater mountain range!! So should you choose to look beyond, or well, under the hood of the aquamarine waters, you'll find a veritable sunken garden, with the most spectacular biodiversity in the world.
It's the only place in the world where you can snorkel with whales sharks, scuba dive amongst manta rays, experience bioluminescence, dine in an underwater 7 star restaurant and return to the refuge of your beach bungalow on the ocean.
Though not one for beaches, here are 13 reasons why I fell in love with this island paradise:
Beguiling Village Bungalows Snaking Through the Water. So the engineer in me pondered how these bungalows were built & held up over the water, and if they ever got ….wait, I'm on vacay!! Begone, logic!
I loved surrendering to the serenity & tranquility around me. You can chillax by the pool of your villa overlooking the ocean or trade that in for a different vantage point.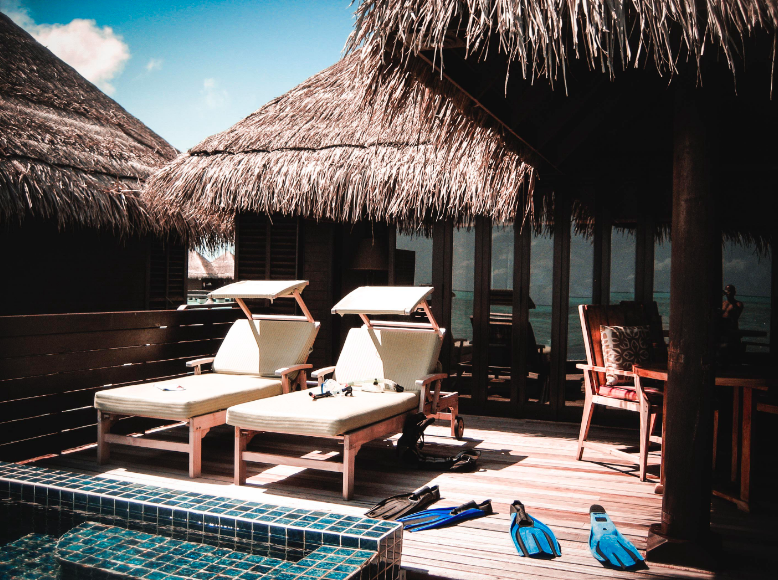 Yes, those are stingrays looking like they're going all JAWS and attempting to devour the poor lady. Her team was leading a research study on stingrays, and they would lure them with food to tag them. Guess who decided to show up & crash the party?
Yup. This Guy.
Each resort will offer different activities: you can jetski, flyboard, standup paddleboard (what I attempted below & failed!), snorkel, dive, swim with whalesharks or hammerheads, see giant mantarays.
About to go on my first snorkeling trip, ever! And we were told a storm's coming, so we should get in the water before the rain pours. Wait, what? Why umm, would you want to be in the water, when it's raging? Also, did I mention I have no clue how to swim? *GULP*
Yay! I survived!! Gotta come back to snorkel with the whale sharks!
This was undoubtedly the holiday of a lifetime! What's your favorite Island Getaway? Tell us in the comments below!
Pin this for reference!