If it's Sunday morning, then mama's got to have her pancakes.
And Mimosa 🙂
This recipe is so easy to make, perfect for a lazy weekend morning when you don't want to spend too long whipping up breakfast. There's something about adding buttermilk to this as well, it cuts through the sweet & makes the pancakes extra fluffy. And if you have extra pancakes left, you can freeze them and re-heat them later in the week. Yup, it's pancakes for the win, people.
Did I mention these puppies are gluten-free?
That's right, so you won't be stuffed & bursting to the core afterwards. Instead you'll have fluffy, light & flavorful pancakes, just begging to be eaten. I topped my pancakes with a strawberry compote — basically boiled strawberries & fresh orange juice with some sugar & vanilla extract. But you can top it with butter, your choice of syrup and it's just as delicious. I also added some shredded coconut to the pancakes while they cooked, so I got a toasted coconut base which made it feel like a tropical pancake (yum!) — you can leave this out if you prefer an overall softer pancake.
Give this recipe a try & let me know what you think! Tag your pictures with #findmymojyo if you make this, I'd love to see your creations!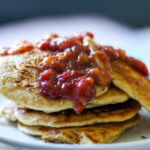 Ingredients
1 1/4 cups of any gluten-free flour blend. I prefer Bob's Red Mill gluten free flour blend
1 tablespoon granulated sugar
1 teaspoon baking powder
1/2 teaspoon baking soda
1/4 teaspoon salt
1/4 teaspoon cinnamon
1 egg
1 cup buttermilk 
1/4 cup vegetable oil (I use melted butter or ghee for a richer taste)
Instructions
Mix dry ingredients in a large mixing bowl. If you are making gluten free pancake mix to save for later, then transfer the mix to an airtight container.
Add the wet ingredients to your mixing bowl and stir just until combined.
Ladle 1/4 cup of pancake batter onto your hot griddle, or pan.
Cook for 2-3 minutes, or until bubbles form around the edges.
Flip and continue to cook until cooked through.
Serve hot.