I'll just say it: A weekend brunch seems incomplete without Belgian waffles.
Yes, you can have your eggs, pancakes, but there is something so perfectly weekend-esque about fluffy, crispy Belgian waffles, drizzled in powdered sugar, squares nestled in salty butter and soaked in maple syrup. I discovered this amazing Belgian waffle recipe, that I now make at home, using my Oster Waffle maker and it is perfection!
You can top it with powdered sugar and butter for a simple but satisfying fix or make a berry compote that is a tart and equally great accompaniment. Here's how to make delicious Belgian waffles. The key I've found, is separating egg whites & egg yolks – the whisked egg whites are what make the waffle fluffy.
If you make this recipe, I'd love to see your pictures! Tag us on Instagram with #findmymojyo to share your creations.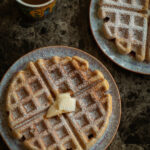 Ingredients
2 ¼ cups All Purpose Flour
1 Tablespoon Baking Powder
3 Tablespoons Sugar
½ Teaspoon Salt
1 Teaspoon Cinnamon
1/4 Teaspoon Nutmeg
2 Large Eggs Separated
½ Cup Vegetable Oil or melted butter (i prefer melted butter)
2 Cups Milk
1 Teaspoon Vanilla Extract
Instructions
Preheat the waffle iron - I use Oster brand waffle maker
Whisk together dry ingredients: flour, baking powder, sugar, salt, nutmeg & cinnamon.
Separate egg whites & egg yolks into separate bowls
Whisk egg whites until stiff peaks form. Set aside. You can use either a hand mixer or whisker (just know if you're using a whisker, you have to whisk vigorously and intensely to get the stiff peaks, a hand mixer is less intense/less effort for the same result)
In a separate bowl mix together the egg yolks, vegetable oil (or melted butter), milk, and vanilla extract.
Add the egg yolk mixture to the dry ingredients and mix well.
Fold in the egg whites.
Pour the batter onto the hot waffle iron and cook according to manufacturer's directions. I like my waffles more crispy, so I set my temperature to medium-high.
Serve immediately with butter, syrup, powdered sugar or any other topping. (Nutella, berry compote, pistachio spread are all good choices)