Big Sur is the crown jewel of California's Pacific Coast Highway. Nestled by redwood forests, steep cliffs & panoramic ocean views, its raw & rugged beauty is timeless.
My favorite time to visit Big Sur is in fall. You are more likely to get sunshine, clear skies, and sunsets that look like an enlivened painting. But even during summer, when the fog rolls in, the place brings on magical feels, faster than you can say Expelliarmus. And yes, that would be a Harry Potter reference.
Here at 10 must-see sights in Big Sur.
1. The beautiful coastal scenery
You'll be tempted to pull over, and you should, as you make your way through the hair pin bends on the one lane road. From the sprawling ocean to the valleys and cliffs all around, it's breathtaking! Try the off-beaten roads, notably Palo Colorado road & Nacimiento Road.
2. Bixby Bridge
This iconic bridge is featured on most California postcards. Head to the parking lot across the street to get view of the bridge and valley from its anterior angle. Careful while traversing on the hair raising, head spinning ledge – the view is so worth it. Just don't take selfies without looking where you're going!
3. River Inn
River Inn has been around since the 1800s. This inn has an outdoor deck facing the river, with live music every Sunday. Featuring Marianne's ice cream from the namesake store in Santa Cruz, CA; this is also a good pit stop for gas & restrooms should you need either.
Big Sur Bakery and Big Sur Roadhouse are other options for quick and affordable eats.
4. Pfieffer Beach
This is a unique beach for oh-so-many reasons. First off, there are 2 gigantic rocks by the shore, where you can see & hear the thunderous echo of crashing waves. The second rock formation, has a "window": a square shaped hole carved by the ocean. You can see waves rush through this opening and it is beautiful to see the sunset through this window. What makes this beach truly unique though, is the purple sand. Super subtle, but visible, purple sand. If you're going on a weekend, come early! Parking is limited and once the lot is full, park rangers will not let you in!
5. McWay Falls
This incredible waterfall plunges onto the beach by the ocean. Accessible by a mere 0.64 mile hike, this is the crown jewel of Big Sur. I've even seen whales during summer from this lookout.
6. Hiking & Camping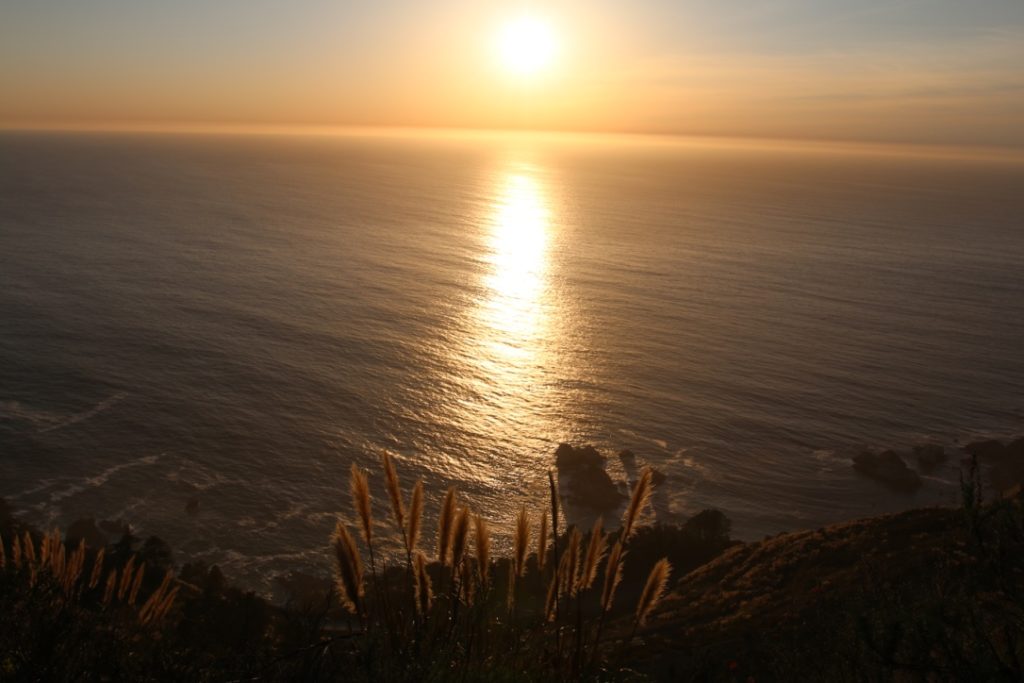 Needless to say, this is a paradise for campers & hikers. Big Sur Campground is super central and accessible. Here are top 5 hikes in the area.
a) Ewoldsen Trail: 4.6 miles long, with redwood trees, streams & ocean vistas. Takes a good 2–3 hours and is simply spectacular.
Starting Point: McWay Falls Parking Lot
b) Pfieffer Big Sur State Park: This 3 mile hike takes you through tall redwoods and ends at an 80 foot tall waterfall.
Starting Point: Pfieffer Beach State Park
c) Andrew Molera Loop:8.8 miles, with view of bluffs, ridges & the panorama.
Starting Point: Andrew Molera Park
d) Jade Cove Beach Trail:1.5 miles, by the ocean, with view of rock coves. And yes, it has jades.
Starting Point: Sand Dollar Beach
e) Junipero Serra Peak: 12 miles, approx. 8 hour hike across meadows, ascents, to the tallest peak in the Santa Lucias.
7. Lunch at Nepenthe
The view from the outdoor terrace is outstanding. Who wouldn't want to chow down a burger overlooking this?? (Plus the Mai Tai is AMAZING & strong…so err, careful coming down them steep stairs.) Can we say #foodmojo?
8. If you're looking for a fancy place to stay or have dinner (or a cocktail): Ventana Inn or Post Ranch Inn.
Ultra luxe Post Ranch Inn or Ventana are perfect for a romantic getaway or even glamping.
9. Art galleries
Small but alluring art galleries along the way, feature handicrafts from local artisans & collections across the globe.
10. Esalen Institute
Esalen offers over 500 workshops on meditation, yoga, massages, organic food and spirituality. Did I mention they also have hot springs? SOLD.
South of Big Sur are Heart Castle, San Luis Obispo & you can continue on to LA. If heading to NorCal, (Northern California, towards San Francisco & the Bay Area) — consider stopping by the charming town of Carmel. It is a more versatile option for dinner over Big Sur. Sunset in Carmel beach is not to be missed!
Whether you head in for a day trip or a weekend getaway, Big Sur will not disappoint!
photo credit: McWay Falls via photopin(license)
photo credit: Jake Faulstitch, Kace Rodriguez, Joseph Barrientos.
Remaining Photos: Copyright @findmymojyo.com