Unmatched in its vibrance & avant-garde modernism, it's easy to see why so many name Barcelona as their favorite city in the world. It's a city that merits multiple visits, and whether for a weekend visit or a week long trip, there's so much to see and do here.
Here are 14 incredible sights not to be missed in Barcelona
1/ Sagrada Familia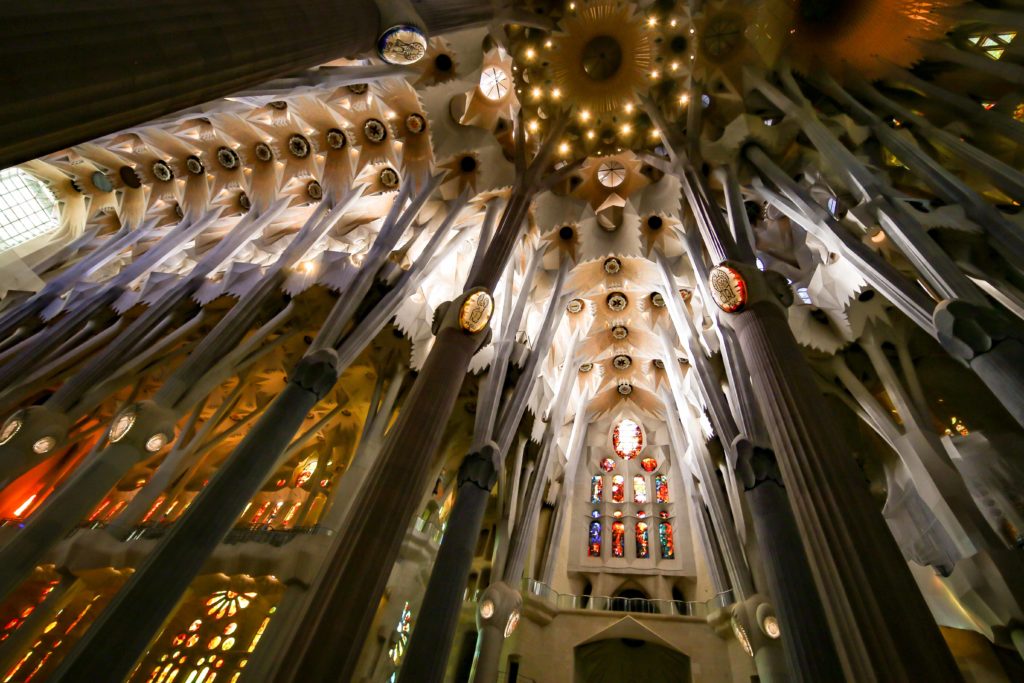 Antoni Gaudi is to Barcelona, what Michelangelo is to Florence. The entire city of Barcelona, in so many ways is an ode to the great architect and his creations – Casa Milà, Casa Batlló, Park Güell, Plaça Reial, to name a few. The crown jewel of his work though, is one of the most iconic & inspiring churches in the world, the Sagrada Familia. Though still under construction, to be completed 2020, the place is a visual feast.
Gaudi created the church as a homage to nature – the looming columns seem to bloom into the ceiling, they represent trees forming a concrete canopy. Different stain glass window facades depict dawn versus dusk. There is so much symbolism and intention behind every aspect of this church, no wonder it served as inspiration for Dan Brown's (of the Da Vinci Code fame) new book, 'Origin'. I highly recommend the audio tour, it explains Gaudi's vision in detail. When in Barcelona, a visit to this masterpiece is a must.
What it truly makes you appreciate, is the power of a dream and the ability to create it.
Tickets get sold out sometimes for several weeks, so book ahead! Here's where I purchased Skip the line tickets.

Note: The nativity tower has a separate entrance, and will require separate tickets.
The awe-inspiring Sagrada Familia Interior
2/ Barrio Gòtic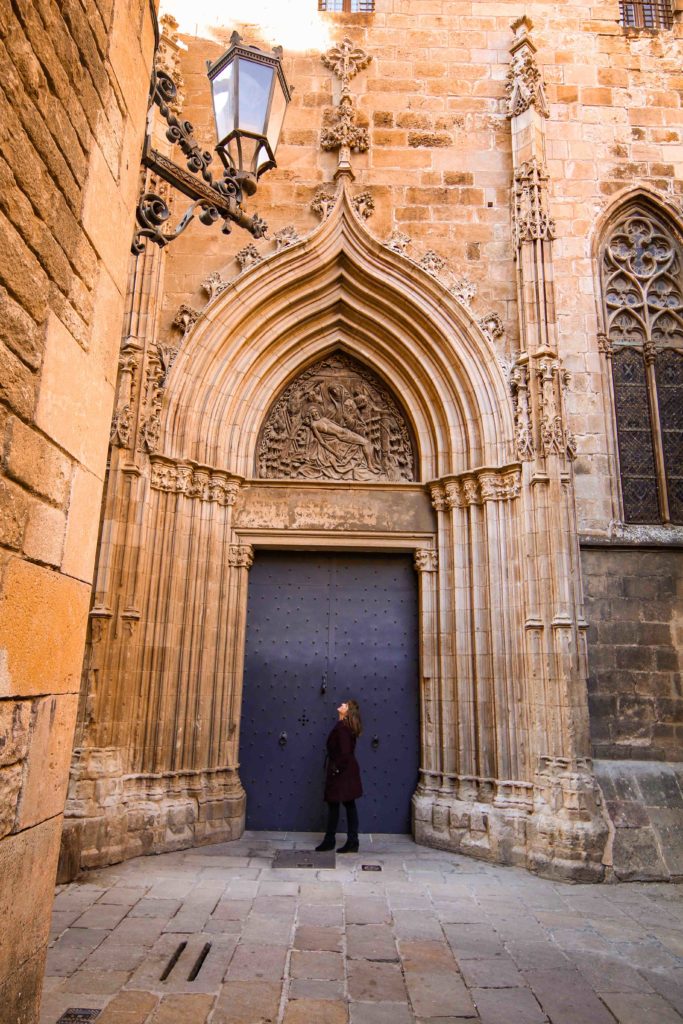 If you are short on time, and have only 1 place you can see in Barcelona – Gothic Quarter would be it. The narrow, medieval streets with plazas, artisanal shops and the historic church, is the oldest and one of the most charming areas of Barcelona.

During Christmas, this neighborhood became even more magical, as if that was even possible! It's also home to Gaudi's very first commissioned plaza, Plaça Reial (the royal square).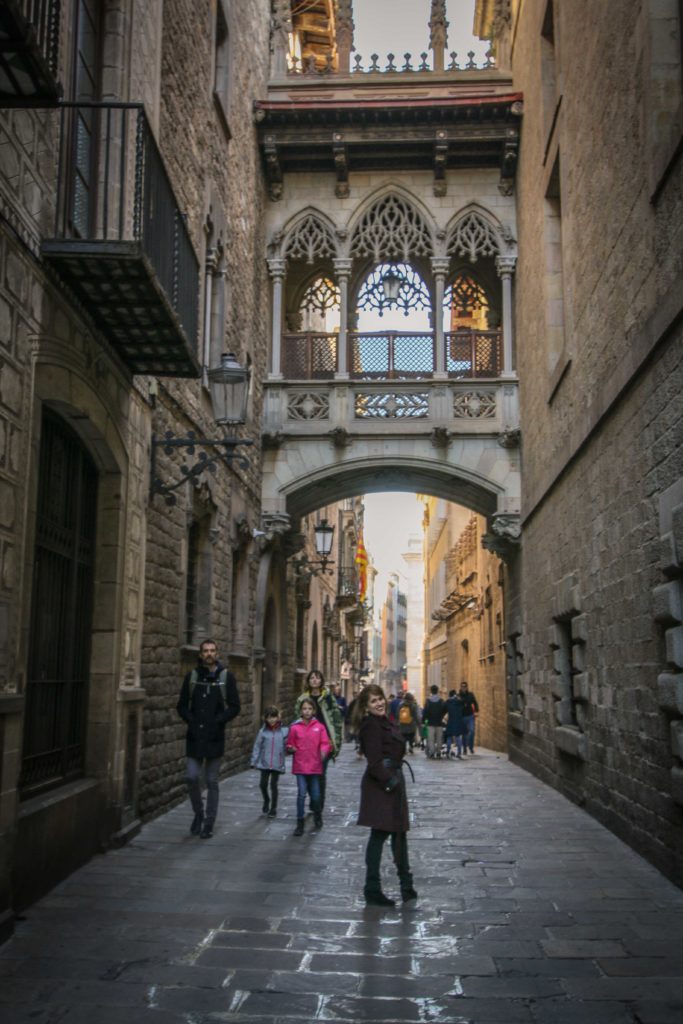 3/ Las Ramblas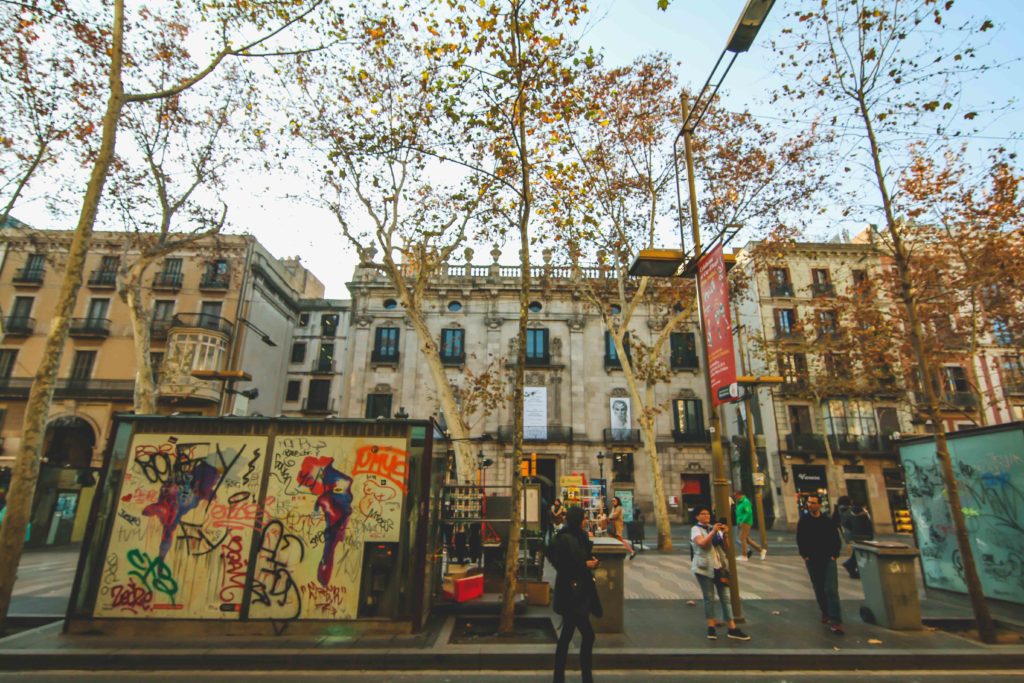 Las Ramblas is a fun, 1.2 km long pedestrian walkway connecting Plaça de Catalunya in the North to the Barrio Gothic in the East and towards the water, by the south. It tends to be very tourist heavy, extremely crowded, be mindful of pickpockets!
4/ La Boqueria Market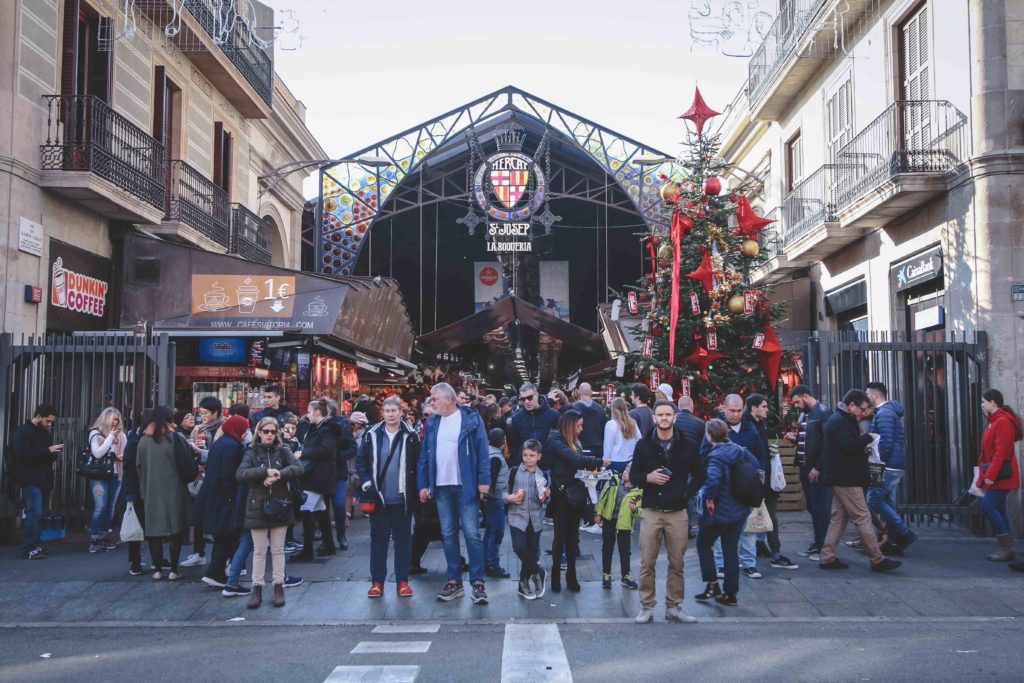 Barcelona's giant indoor food market, La Boqueria is especially festive during the Christmas holidays. As a vegetarian however, I found food choices to be very limited here. Other than the super fresh and delicious tropical fruit juices, I didn't find much to eat. Also, having been to food festivals, and a ton of indoor & outdoor food markets, I did feel this sight didn't live up to the hype for me. It's still worth the pit stop especially during the holidays.
5/ Palau de la Música Catalana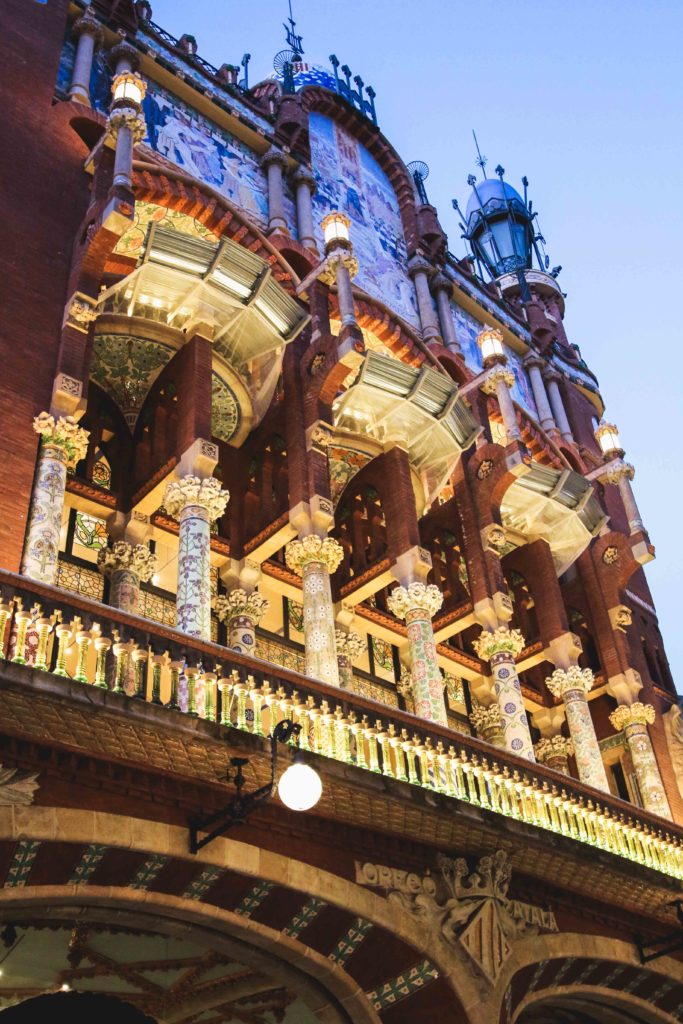 Palau de la Música Catalana has been steadily gaining pace as an Instagram worthy spot, it certainly did not disappoint. I personally enjoyed grabbing a cafe con leche (coffee with milk) at their cafe, while photographing the extraordinary interior.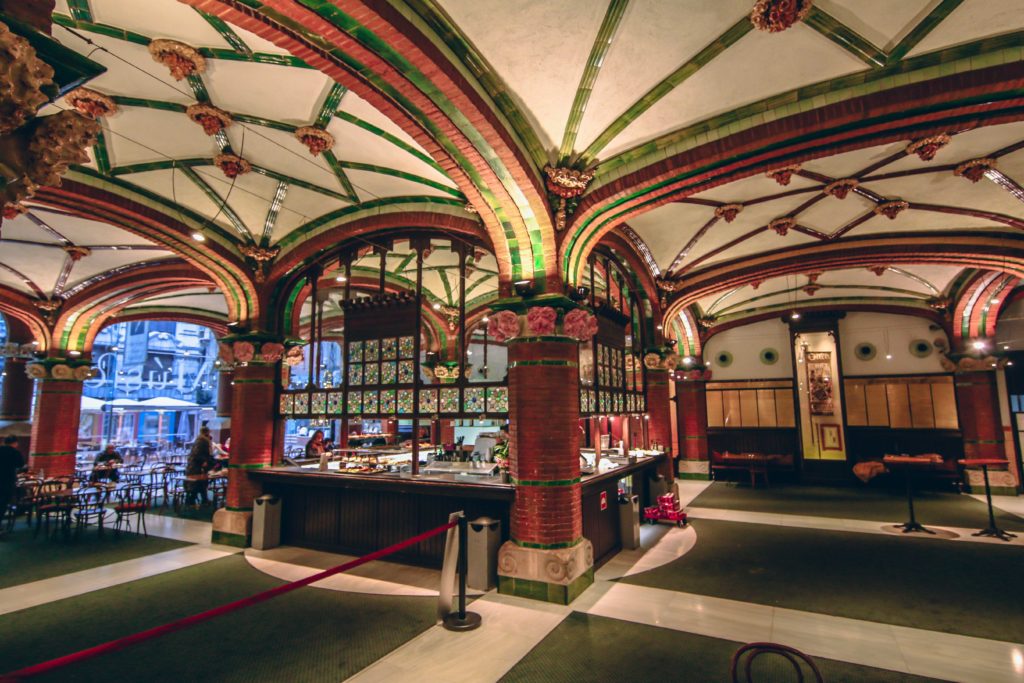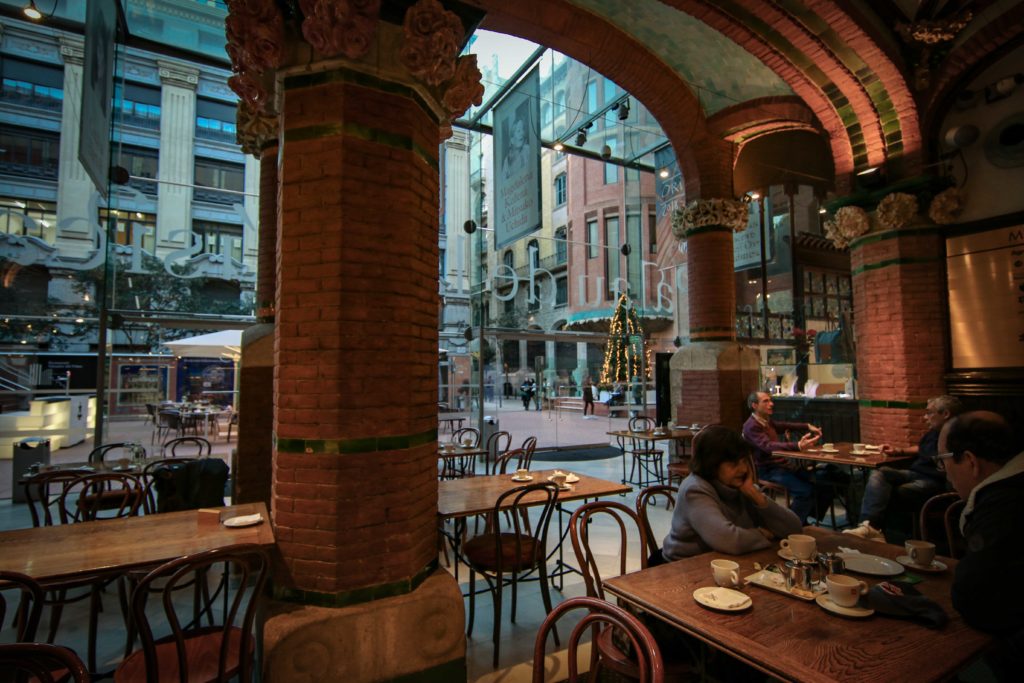 6/ Plaça de Catalunya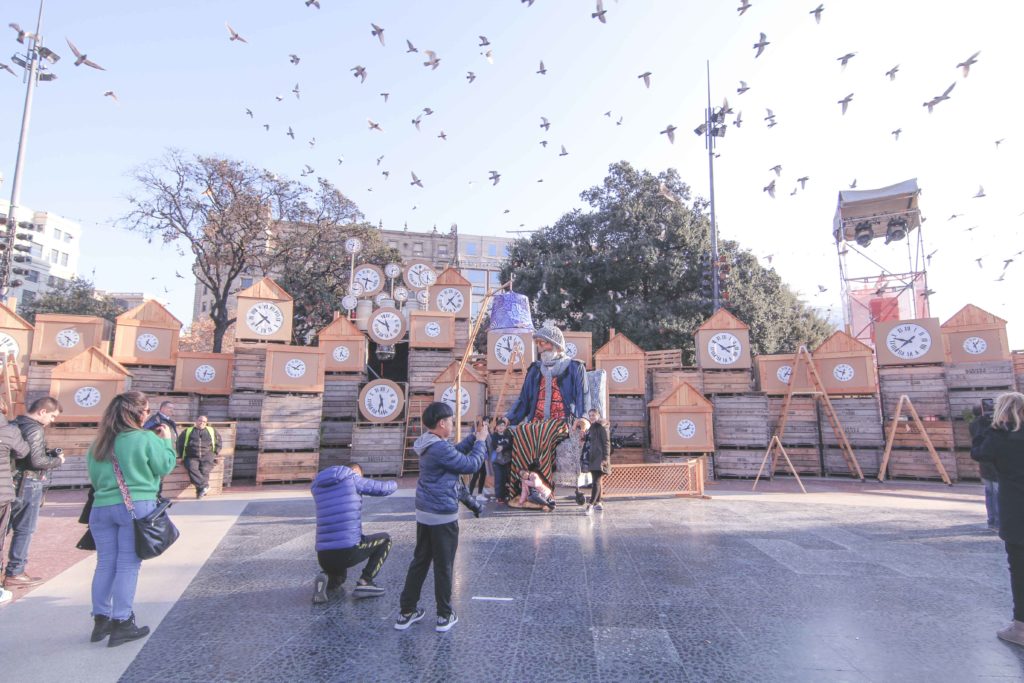 This was a great plaza to explore, as we got to one end of La Rambla. During Christmas, a part of the plaza had a christmas market, another part had a haystack maze, and an area for children to post letters to Santa, with street vendors selling hot chocolate & churros. Yum!
7/ Casa Batlló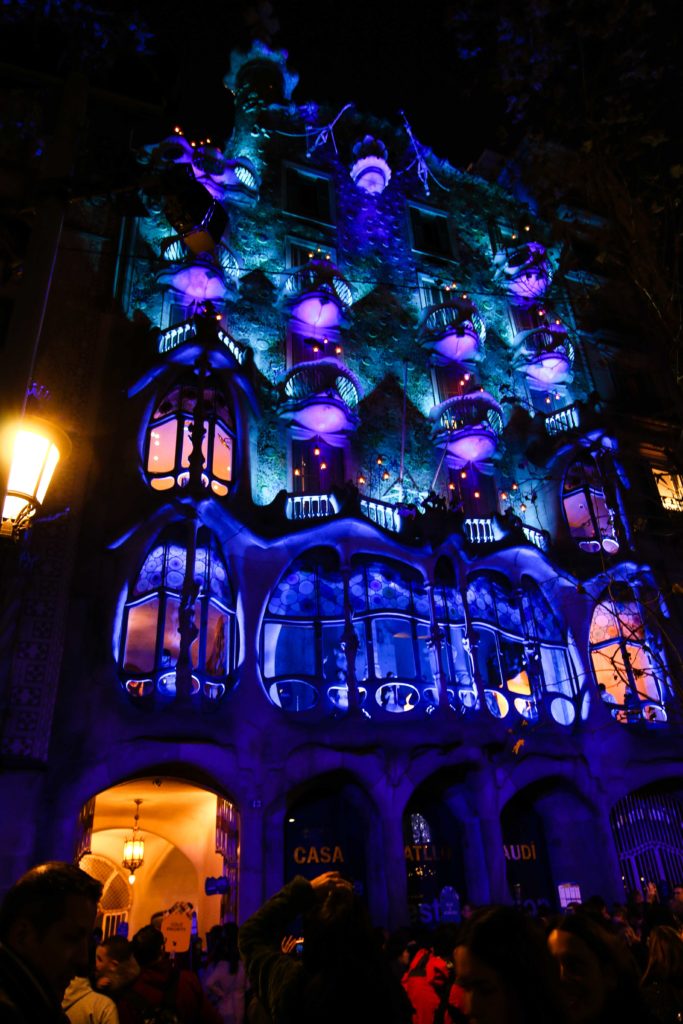 A UNESCO world heritage site, Casa Batlló is a remodel of a house that turned into a work of art. Although a modest building, its vivid facade & skeletal looking frame is striking during the day, against the backdrop of neighboring buildings in the Passeig de Gràcia street. At night, the illuminated building looked just as vibrant.
8/ Playa de La Barceloneta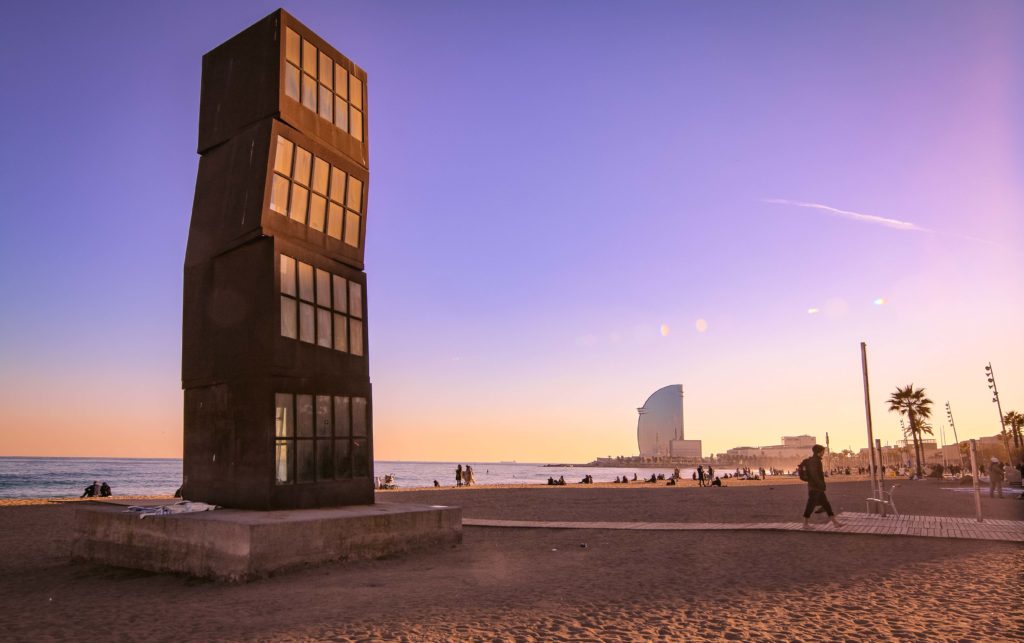 Barceloneta beach is a fun place to go with your friends, and to surf during the winter. We walked to the beach all the way from the Olympic plaza, past the promenade and nearby beaches. Beware of street hawkers, some of whom can be super aggressive!
9/ Olympic Plaza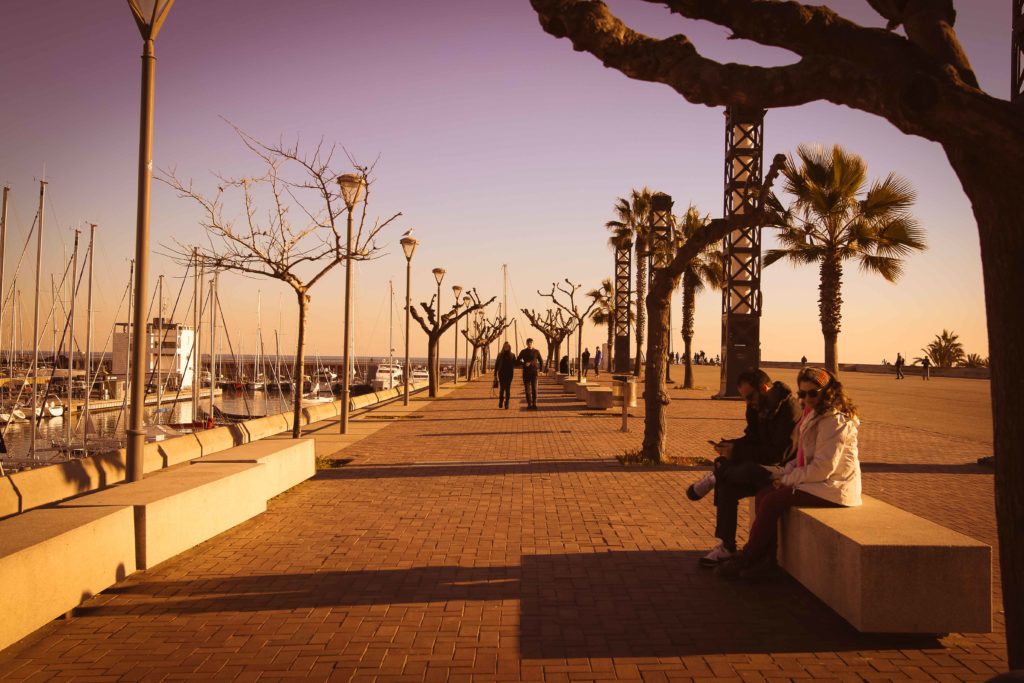 The Olympic plaza was a good starting point to explore southern Barcelona and head towards the beaches.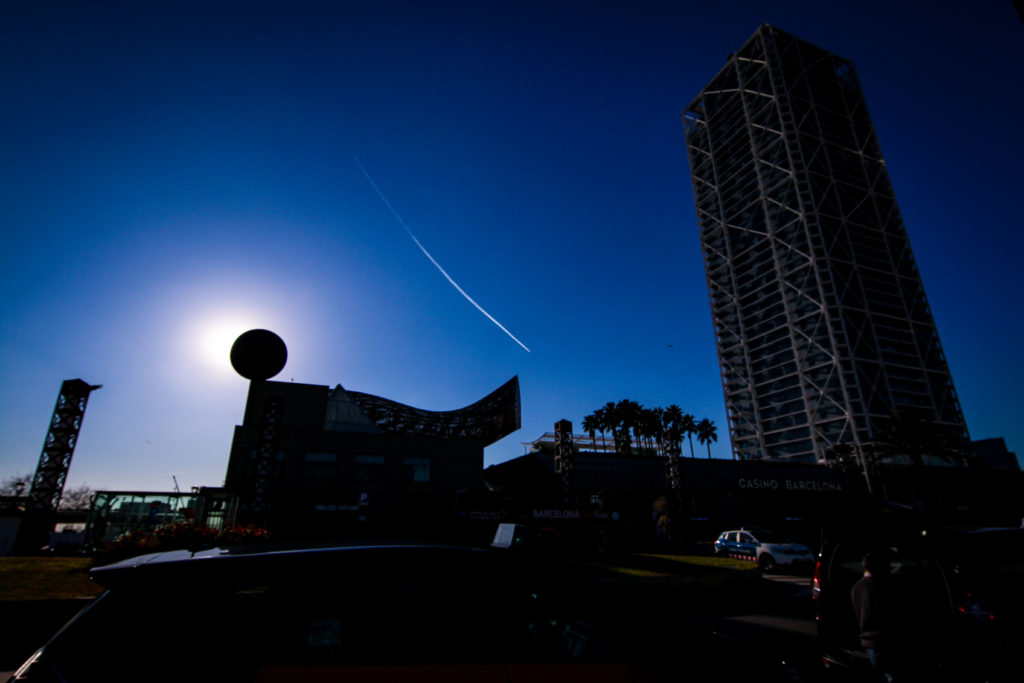 10/ Museo de Picasso
This museum houses one of the most extensive artworks of Pablo Picasso, and is a pretty great exhibit. With a baby in tow however, it meant being serenaded by le bebe's loud soprano notes, which echoed from chamber to chamber. In a situation familiar to many parents, it meant one of us had to step outside with the kid, while the other tried to scramble through the exhibits with snacks and the stroller. #thestruggleisreal This is where though, I loved Spain even more – the entire staff and locals, were so helpful in trying to help us calm and handle the kid. Spain is incredibly baby friendly & supportive.
I did not get to take in the below sights, but I highly recommend them if you have more time in Barcelona:
11/ Park Güell & Casa Mila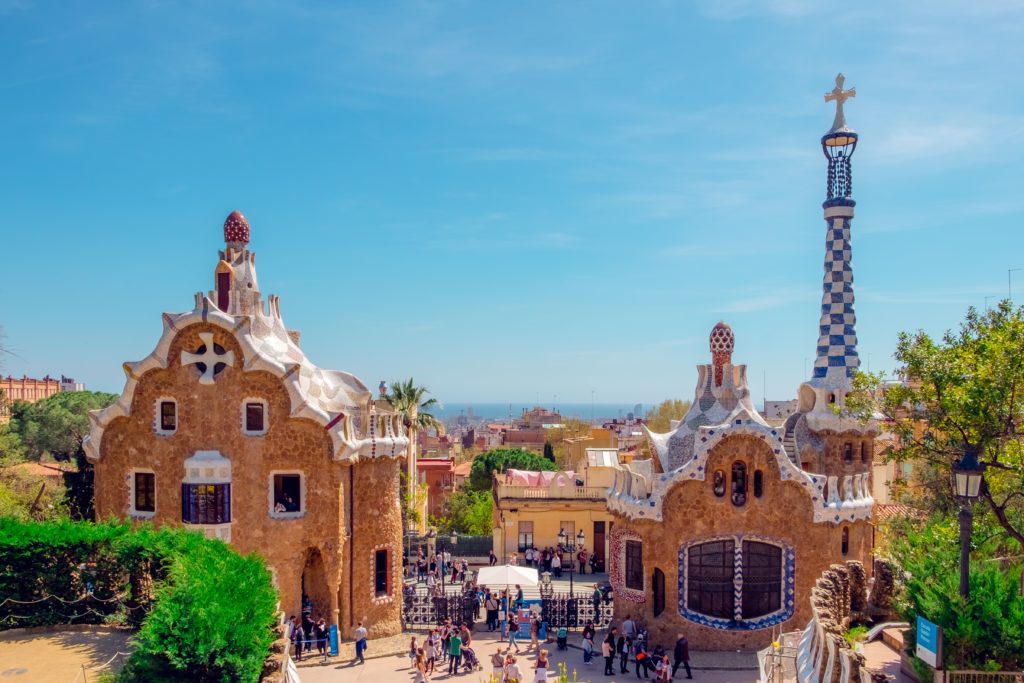 If you love architecture and can't get enough of Gaudi, this is the place for you. Park Güell gets really packed during the day, all my research advised it best to start early in the day and buy tickets in advance.
Photo Credit: Daniel Corneschi
12/ Montjuic Hill
A hilltop area, where you can ride a cable car and furnicular, and watch a "magic fountain performance", similar to the Bellagio fountain in Las Vegas, and Burj Khalifa musical fountain in Dubai.
Photo Credit: Valdemeras D.
13/ Carmel Bunker
A scenic vista point for city panaromas.
Photo Credit: Stephen Wright
14/ Montserrat
A monastery perched on a cliffside, Montserrat makes for an excellent day trip from Barcelona.
Photo Credit: Missu
Barcelona blew me away on many levels, I can't wait to go back again here!