The leaves are turning golden & purple & Halloween is just 'round the corner.
More importantly, Starbucks unleashed a seductive arsenal of pumpkin spice lattes.
Yes, my favorite season Fall, is officially here! I love the beauty of the changing scenery, the crisp quality of the air & even how the light looks this time of year. It's also the time of year for divine Fall foods: Persimmons, Pomegranates, Pumpkins & Butternut Squash.
If a recipe has "Butter" in it, it's already destined for taste-bud greatness.
And so it goes with Butternut Squash Risotto. Convenient enough to whip up for your next pot luck, or even on a quiet Fall evening — this is your go-to-comfort, whether you're curled up on the couch with a backdrop of falling leaves…or getting your Netflix binge on by your fireplace.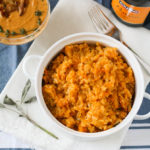 Ingredients
1/2 Butternut Squash Or an 8 oz. pack of pre-cut Butternut Squash
3 Tablespoons Butter (for dairy-free version, use vegan butter)
1 Tablespoon Olive Oil
Salt & Black Pepper To Taste
1/2 Diced Onion
1/4 Leeks (optional)
2 small garlic cloves
1 1/2 cup Arborio Rice
6 cups Vegetable Broth - heated
1/2 cup grated Parmesan (for dairy-free version, use vegan parmesan cheese)
1 tsp dried Parsley
1.5 tsp chopped Sage
2 tsp All purpose seasoning
1/4 tsp Rosemary
1/3 cup dry white wine (I use Pinot Grigio or dry Chardonnay)
Instructions
Cut & cube the Butternut Squash. Here's an awesome how-to-video from Byron Talbott on how to cut butternut squash. 
I like to roast the butternut squash & garlic together - it makes for a super rich & decadent flavor. Roasting really brings out the Butternut Squash's sweetness, and when you cook it in the broth, it eventually becomes a nice sauce for the Risotto.
Grease an oven safe dish with oil, sprinkle the all-purpose seasoning, rosemary, a pinch of salt & pepper. Place the cubed butternut squash pieces and 2 cloves of garlic, toss to coat the mixture.
Roast the squash & garlic at 425 degrees for 25 minutes or until tender.
In a skillet, melt the butter. Sauté the onion and leeks, with some salt & pepper.
Add the Arborio rice to the skillet and sauté for a few minutes. Add the wine.
Now add the roasted butternut squash & garlic to the skillet.
Add a cup of the heated broth to the skillet, stir the risotto till the liquid is absorbed.
Repeat adding the heated broth, one cup at a time, till the liquid is absorbed. You'll see the risotto cook and thicken with each cup of hot broth. You can tell if the risotto is cooked when it looks puffed. Give it the taste test - if it tastes raw, add more broth and let it simmer.
Add sage, parsley & parmesan cheese to the Risotto & mix well.
Notes
Vegetarian, Gluten-Free. For Dairy-free & Vegan version: use Vegan Butter & Vegan Parmesan cheese.