It's officially been 8 weeks into newly minted mommyhood!
Now that I'm starting to get more mobile & settling in better with the newborn, I figured a celebration was in order. What better way to do so, than with chocolate? I know… chocolate AND Nutella. And throw in strawberry. And whipped cream for good measure. Oh my gosh, let me tell you, this cake — making it, assembling it, photographing it and most importantly — devouring it fired up the MoJyo engines faster than any metaphor my sleep deprived new mommy mind can conjure.
Oh Nutella, you make all the exhaustion just disappear! I feel I need to write an ode to your greatness as a separate blog post. Meanwhile, here's actual footage of me eating this cake:
Here's why this cake is terrific: it's perfect for the choco & Nutella lover, and an awesome alternative to strawberry shortcake. It's dense, rich & ooohh so satisfying. Also, this is a recipe from the amazing food blogger & now Food Network star, Ree Drummond, aka, The Pioneer Woman. Did I mention it's ridiculously pretty?!? I mean look at them tiers….
Both a visual & taste bud treat, this is one Nutella-riffic cake that hits the spot. If you make this recipe, I'd love to see your pictures! Tag us on Instagram with #findmymojyo with your creations.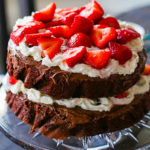 Ingredients
Cake:
2 sticks Butter
4 tablespoons Unsweetened Cocoa Powder
1 cup Boiling Water, boiling
2 cups Flour
2 cups Sugar
1/4 teaspoon Salt
1/2 cup Buttermilk
2 Eggs
1 teaspoon Baking Soda
1 teaspoon Pure Vanilla Extract
1 cup Nutella

Strawberries:

2 pints Strawberries, hulled and sliced
1/4 cup Sugar
1 teaspoon Pure Vanilla Extract

Whipped Cream:

2 cups Heavy Cream
1/2 cup Powdered Sugar
Instructions
Preheat the oven to 350.
Line two round baking pans with parchment and spray the parchment with baking spray.
Melt the butter in a medium saucepan.
Mix in the cocoa and stir it until smooth.
Pour in boiling water, let the mixture bubble up around 20 seconds; turn it off and set it aside.
In a measuring pitcher or bowl, mix together the buttermilk, baking soda, eggs and vanilla. Set this aside.
In a large mixing bowl, mix together the sugar, flour and salt.
Stir in the hot chocolate mixture, stirring gently until it's halfway combined and less hot. Pour in the buttermilk mixture and continue stirring gently until the batter is all combined.
Pour the batter into the pans and bake them for approximately 17 minutes until they're just set. Remove from the pans and set them aside to cool completely.
Prepare the strawberries: stir them with the sugar and the vanilla. Let them macerate for 15 minutes, and drain off the excess juice.
Whip the cream with the powdered sugar.
To assemble: turn one layer upside down on a serving platter.
Spread half the Nutella all over the surface.
Spread on half the whipped cream and top with half the strawberries
Place the other layer upside down on top and repeat with the rest of the Nutella, whipped cream, and strawberries.
Keep chilled until serving and cut with a serrated knife!