As a vegetarian, I'm constantly surprised by the variety of savory, delicious, nutritious dishes that do not disappoint on the taste scale!
I found bliss when I stumbled on this dish, at a food festival in San Francisco. I was beckoned by wafts of ginger, garlic, tomato & roasted peanuts. Little did I know they were all thrown together, in a stew with collard greens. And served on a bed of quinoa. It was tangy, spicy, peanut-y & oh so heavenly & filling, I knew I had to find a way to make this deliciousness at home.
So here it is! I adapted this recipe from the fabulous Cookie + Kate blog, let me know how it turns out for you!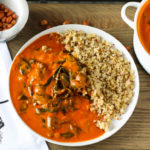 Ingredients
6 cups vegetable broth
1 medium chopped red onion
2 tablespoons peeled and minced fresh ginger
4 cloves garlic, minced
1 bunch chopped collard greens
¾ cup unsalted peanut butter - I prefer smooth
½ cup tomato paste
1 teaspoon Sriracha sauce (use lesser to taper spiciness)
¼ cup roughly chopped peanuts, for garnish
Salt & Pepper to taste
Instructions
In a Stockpot, sautee the onion, ginger, garlic in butter till browned.
Add the broth & bring mixture to a boil for about 15 minutes.
Using a mid-size, heat-safe mixing bowl (I use a Pyrex bowl or a mixing bowl), add the peanut butter & tomato paste, then pour 2 cups of the boiled stock into the bowl.
Whisk till smooth, then pour the peanut mixture back into the Stockpot & mix well.
Add the collard greens & season the soup with Sriracha, Salt & Pepper.
Simmer for 15 more minutes, till the Collard greens are soft & cooked. I think I just might try adding yams next time, I have a feeling it might go well!
Serve over Quinoa & top with chopped peanuts.
If you make this recipe, I'd love to see your pictures! Tag your pics with #findmymojyo on Instagram to be featured on our stories!