One can never go wrong with Lychee.
It's just kind of impossible (unless you're allergic to it…yikes, in which case, may I interest you in some Nutella??)
I was thinking of something fun & simple to take for dessert to a friend's house & realized my fridge was stocked with fruits I'd barely touched. Better yet, I spotted a bag of lychees I picked up on a whim. These lychees threw me an ultimatum: eat us now or watch us turn into a science experiment.
Inspiration for this recipe came from staring at a Hawaii fridge magnet: how about making a tropical fruit salad?! With Papaya, Mango & precious, sweet Lychee? I'm drooling re-living the memory of it all.
It turned out pretty amazing! And was a big hit at the party, my friends & I wiped our bowls clean, my buddies went right back to the Salad bowl, hunting for more Lychees. I will chalk this up as recipe success!
My only gripe is when I left it in the fridge, the fruit let out a bunch of juice! Which was tasty and all, but the fruit at the bottom looked terribly soggy & were floating like sad, unclaimed baggage at even sadder airport terminal.
I realized this is because I made the cardinal sin of adding dressing AHEAD OF TIME, because I wanted to carry minimal things with me to my friend's house. Don't let this happen to you people! Turns out you should always put the dressing on a salad, minutes before you actually eat it. Fruit Salads deserve our unsoggy commitment towards their integrity.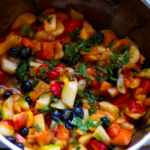 Ingredients
1 mango, cut in 1/2 inch cubes
1 medium papaya, cut in 1/2 inch cubes (I'm not sure why papayas come in so many sizes. I recommend the mid-size hawaiian papayas vs. the ones that look swole, and like they've gone all cannibal and eaten other papayas)
1/2 cup chopped lychees
1/2 cup cut strawberries
1/4 cup blueberries
1 tablespoon chopped fresh mint

For the Dressing
1/2 cup Sugar
1/2 cup Water
Juice Of 1/2 Orange
Zest Of 1/2 Orange
1 teaspoon vanilla extract
Instructions
Place the sugar, water, orange juice and orange zest into a small saucepan and stir to combine. Bring to a boil, then turn the heat to low and simmer for 15-20 to thicken slightly. Set aside to cool, then store in the fridge until cold.
Mix together all the fruit in a large bowl and pour the syrup over the top, tossing gently. Garnish with mint leaves and serve.