Eggs are perfectly versatile, whether scrambled, fried, poached, or as omelettes. What I learnt however, is how divine eggs truly are, when baked in a ragout of crushed tomatoes, hot peppers, garlic & paprika.
I discovered this at Tatte Bakery, a little brunch gem in Cambridge, Boston. Shout out to our buddies Pikki & Arvind who took us there for Tatte's signature dish, Shakshouka with Feta. Shakshouka, means 'mixture', popular in Morocco, Algeria & Israel for breakfast & dinner. If you happen to be in Cambridge, Boston, this awesome post from Yin & Yolk, is a great review of Tatte Bakery.
The real reason for my order, was the bombastic & downright terrific name: Shakshouka. I imagine if Beyonce had a twin sister, she would be named Shakshouka. If I had an alter-ego stage name, like you know, Beyonce's 'Sasha Fierce' or Shakira, mine just might be Shakshouka. Jyo by day, Shakshouka by brunch. I can roll with that!
As you can see, I had no choice but to order this party on wheels dish with the enticing name!
It was MAGNIFICENT. Oozing with rich, succulent tomato sauce & gooey melted Feta caressing eggs with runny yolks baked to perfection. (Great food inspires poetry for me.) With wafts of fresh parsley, oregano & garlic inviting you for a liberating yet addictive food experience. Nothing could have prepared me for that moment. #Stupefied. (I should stop this nasty habit I picked up of using hashtags to make my point. #millenialproblems)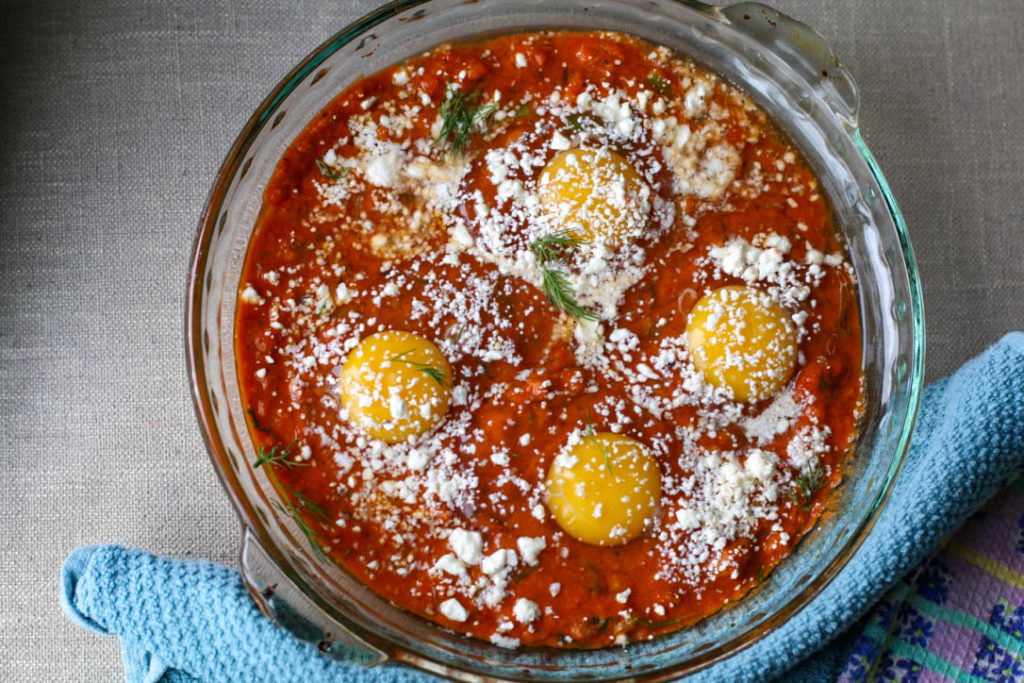 Since then, I've made several variations of Shakshouka at home, and I think I've finally got it! Try it out and let me know what you think. If you make this recipe, I'd love to see your pictures! Share your creations with #findmymojyo on Instagram to be featured on our stories!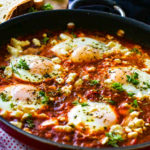 Ingredients
2 tablespoons butter
1 large shallot or onion, diced
1 large red bell pepper, seeded and chopped
3 garlic cloves, chopped
1 teaspoon ground cumin
1 teaspoon of Za'atar spice blend (optional, but it really does take the flavor up a notch. Here's what I use.)
1/2 teaspoon Trader Joes' 21 Seasoning Salute (optional, but I use this in most of my cooking, and it adds a heap of flavor)
⅛ teaspoon Harissa or ground cayenne, or to taste. 
Either 3 large tomatoes chopped or 1 (28-ounce) can whole plum tomatoes with their juices, coarsely chopped.
¾ teaspoon kosher salt, plus more as needed
¼ teaspoon black pepper, plus more as needed
5 ounces feta, crumbled (about 1 1/4 cups)
5 large eggs
 1/2 teaspoon chopped fresh dill (you can also used dried dill or parsley goes well in this dish too)
1 tablespoon lemon juice
Instructions
Heat butter in a large skillet over medium-low. Add shallots/onion, garlic and bell pepper. Cook gently until very soft, about 10 minutes. Stir in cumin, paprika and cayenne, salt and pepper and cook 1 minute.
Add tomatoes, simmer until thickened, about 10 minutes. Taste and add more salt and pepper if needed.
Add Za'atar, 21 seasoning blend (if using), dill & lemon juice. Let cook for another 5 minutes.
Drizzle in crumbled feta, be careful not to break it while stirring
Gently crack eggs into skillet over tomato sauce. 
Cover with a lid, and steam cook for 8-12 minutes. (check for consistency - the egg center should be a bit jiggly, but cooked otherwise.)*
Garnish with dill (or parsley or cilantro) & enjoy with bread!
Notes
*Alternatively, you can transfer skillet to oven and bake until eggs are just set, at 350 degrees, for 7 to 10 minutes. But I've found cooking on the stove top with a covered lid, cooks the egg perfectly, without a film which you can get from baking. If out of dill, parsley makes a good substitute as well. I've also made variations of this recipe adding 1/4 tsp of turmeric powder, and it's been delicious. If out of tomatoes - fresh or canned, I've also used pasta sauce in this recipe (about 16 oz.), and it works just fine. Harissa powder is the mediterrenean cousin of Cayenne powder. You can also use paprika or chilli powder, both work as good substitutes.