The Andalusian capital of Sevilla is one of Spain's most enchanting cities, rich with history, culture and incredible food. Whether you traverse the narrow streets with bright buildings, stumble across baroque churches or majestic mujedar architecture, or take in passionate flamenco performances in plazas and tapas bars – exploring Sevilla is quite simply, a feast for all senses. Known for scorching summers, but mild winters, it happens to be the perfect destination for families, couples, trips with girlfriends and solo travelers alike. We visited enchanting Sevilla over Christmas last year, and I was completely taken in by the magic of this place.
We ended up staying in Sevilla for 4 days, which was perfect for us. Most visitors typically spend 48 hours, it's an excellent gateway to Andalusia.
Top 5 places to see in stunning Sevilla
1/ Giralda Tower
The best views of Sevilla are from the top of Giralda tower. La Giralda is the bell tower of the Seville Catedral, it was built as the minaret for the Great Mosque of Seville in Moorish Spain. The "floors" are not your typical ones with steps, rather they slope gently upwards, and there are 35 such floors, to the top. It's a great way to start or end your day in Sevilla.
Walk by Dusk & Night by Seville Catedral
2/ Old Town Sevilla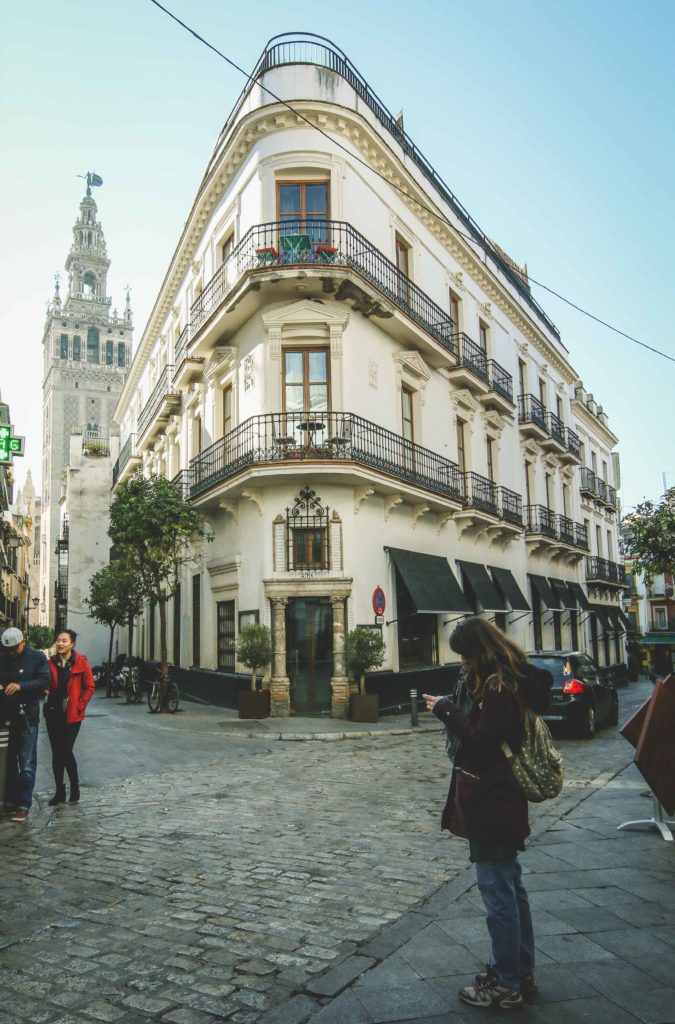 Taking a stroll in old town Sevilla in itself is a joy – you get to walk past horse-drawn carriages, the entrance to the Real Alcazar palace, Sevilla cathedral, Giralda tower, and plenty of restaurants. Especially at night, the illuminated castle, lamp posts and square look ethereal, and a lot like a fairytale come to life. Over Christmas, with the holiday lights, an evening stroll here was even more unforgettable.
Narrow Alleys & arches in historic old town Sevilla
3/ Alcazar Real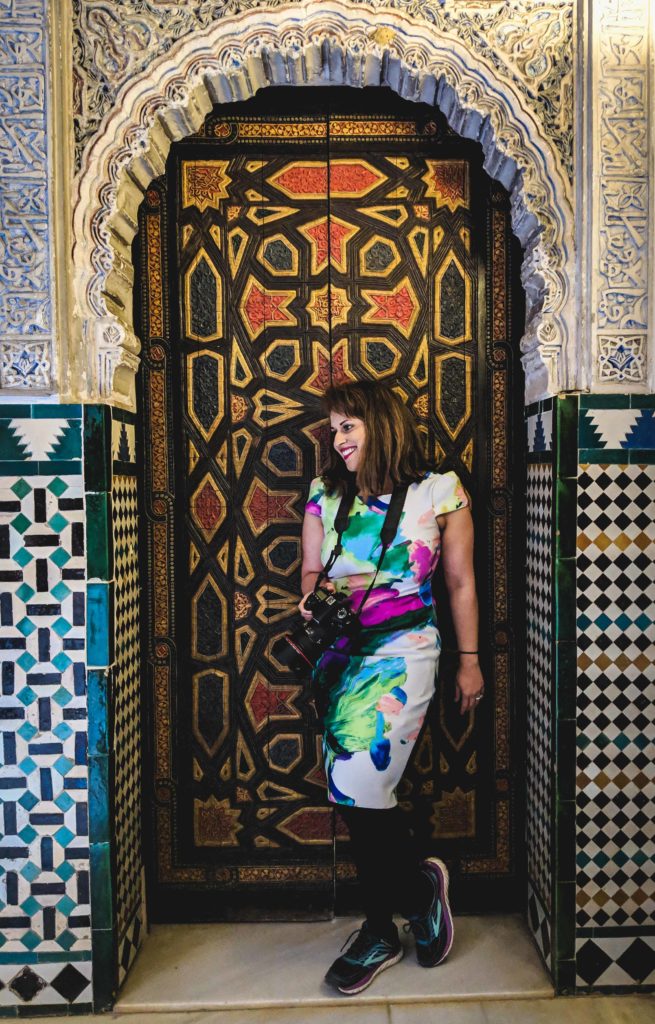 Alcazar Real is every bit worth the hype. A rare testament to historic mujedar and Gothic architecture styles, Game of Thrones fans will recognize this charming palace as the site of Dorne. We did the audio tour, which is not a terrible idea, but I also don't think you'd be missing out if you opted not to go for the audio tour. The historic buildings, arches, facades, ceilings were so grand and awe-inspiring, I was more enraptured by trying to capture its essence on camera, than pay attention to the audio tour. I also enjoyed Alcazar Real, far more than Granada's Alahambra Palace, which was also beautiful – but Alacazar Real takes cake in my view.
Obligatory Selfie at Real Alacazar!
4/ Plaza D'espana
From the time you set foot on the outskirts of the Plaza to the time you make it to the interior façade, it happens, that ebbing of excitement. You realize you've stumbled on something a lot bigger & incredible than the plaza itself: somewhere between the intersection of the arching bridges & man-made canals, flamenco dancers & looming towers is a slice of happiness. If you're looking for Mojo, consider it found, at the footsteps of Plaza D'Espana.
5/ Barrio Santa Cruz

Getting lost in picturesque Barrio Santa Cruz's alleys, and stumbling onto secret squares tucked away from the main streets, is a right of passage – you can explore little shops and bars along the way. My favorite street in all of Sevilla was Calle Mateos Gago, with its many cava and tapas bars, souvenir and ceramic tile shops.
I saw so many couples blissfully walking here, there was an air of being relaxed & chill. I highly recommend a winter holiday visit to this enchanting city.
---
Additional Sights if you have time
Torro Del Oro
Triana district at night
Macarena district
---
Favourite Vegetarian-friendly places to eat
Pan y Piu (their pan con naranja – freshly baked orange bread was my absolute favorite thing to eat): STUPENDOUS (yes, really, it merits this description) artisanal bakery
Osteria L'Oca Giuliva – Fresh Pasta & Pizzeria
Any tapas bar or cava bar on Calle Mateos Gago
---
Must Try Vegetarian Sevillian specialities
Gazpacho: cold tomato soup, perfect to cool down during scorching heat
Salmorejo: Andalusian specialty, tomato soup blended with bread & with olive oil
Vegetable Paella: baked rice with vegetables
Croquettas (each restaurant will have their spin on a croquettes – whether with spinach, zucchini or some other utter dose of amazingness): vegetable cutlets
Manchego cheese
Sevilla is such a charming town, you can both get lost and find yourself in the corner of this Andalusian capital.