It's kind of hard not to fall in love with Sintra.
There are so many wondrous sights to take in: from the palatial Pena Palace, to the quixotic Quinta De La Regaleira to the mystifying Moorish Castle. A far humbler and relatively off the beaten path is one my favorite places in Sintra, Montserrate Palace. The palace itself might not be as staggeringly grand or opulent, but it's the simplicity, tranquility & understated elegance of this place, that stole my heart.
Only 45 minutes from Lisbon, it's easy to see why Sintra would make a perfect day trip. However, I knew from my research that sights in Sintra are quite spread out, so to see everything in a day is quite challenging. Most visitors opt to see Pena Palace, Sintra's most popular attraction, dubbed as "vividly flamboyant" architecture. You'll agree when you see the brightly saturated colors of the towering pillars and walls. Adjacent to it, and about a 15-20 minute walk lies the outskirts of the Moorish Castle (take note though, that to get to actual Moorish Castle entrance is another 15 minute walk on those Castle outskirts! We made the mistake of assuming it's the same thing and narrowly missed entrance to this Castle!). All the way in the opposite direction, are Quinta de la Regaleira and further from that, Montserrate Palace.
Though a trek to make it there, it was the top thing on my Sintra bucket list, and ever so worth it! Here's my photo diary of what it's like, to explore this amazing, underrated gem of Sintra.
Walking through the gardens, really felt more like walking through a lush forest. There is a more challenging path to get to the palace via the gardens, it also happens to be more picturesque. Because we had a stroller with us, we opted for the handicapped friendly, more paved pathway. It was beautiful & serene as we made our trek down to the Palace. And here's the palace, inspired by Indian, Gothic & Arabic influences, it was built as a summer resort house for the Portuguese royalty.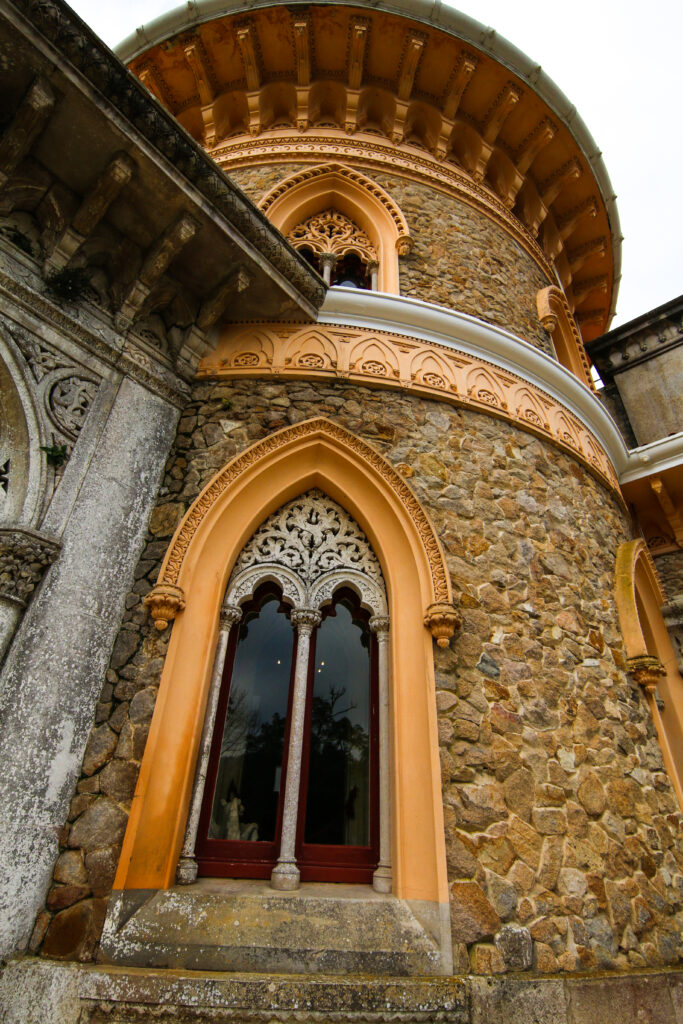 What a scene.
The inside of the palace is a vision – a small and simple fountain is at the center of the palace, but when you look up at the ceiling, and into the hallways, the symmetry of the place is spellbinding & stunning.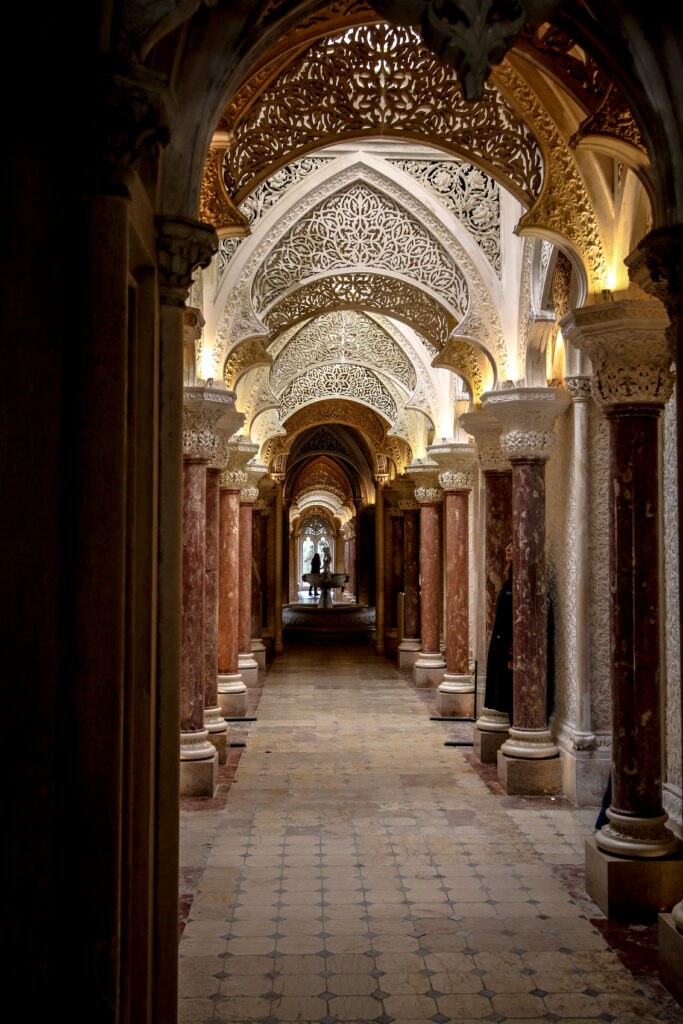 Just Ethereal. 
You can easily expect to spend a good 1-2 hours here. Because we had an infant in tow, who needed feeding & changing, we spent an additional hour in the on-site cafeteria. Although the food choices are sparse, the cafeteria itself has a bigger dining room, which is great, if you need to let little ones run free, they just might make new friends along the way.
Although here for a brief time, Sintra was my most favorite part of Portugal, largely in part due to Montserrate Palace. On my next visit here, I'm looking forward to returning to explore the gardens, and take in Sintra for longer, over an overnight stay!
Planning Your Trip
Good For: Architecture, History, Scenic, Family friendly
Where to Buy Tickets: Tickets are €8.00/€6.50/€6.50 (adult/child/senior). The opening hours are between 9.30-10.00 and 17.00-19.00 (for the palace) and 18.00-20.00 (for the park), depending on the season. Last ticket is 30 minutes prior to closing time for the palace, and 1 hour before close for the gardens. Here's where I purchased Skip the line tickets, and it was totally worth it…no waiting in lines!
How to Get There: Once in Sintra, hop on/hop off on route on Bus 435. Alternatively, you can also drive. Note that Parking is limited by Pena Palace, and it can get crowded on the hill top; however I did see a much bigger parking lot by the Monteserrate Palace. We took the bus, which meant you're on the bus' schedule – it's about a 25 minute bus ride from the Sintra train station to the Palace, approximately 6 km away.
Additional Resources: