Pasta. It's the Italian word for 'HEAVEN'.
Ok, I totally made that up. NUTELLA is the correct Italian word for HEAVEN.
Now that we've set the record straight, let me tell you about this divine recipe on home-made pesto. Traditional Pesto recipes call for pine nuts. But have you seen how much pine nuts cost??
$7.80 for an 8 oz. bag — and that's considered a deal. Uhh, how will I be paying for that? Move over, cash or credit, how about an arm or a leg?? Too much for my vegetarian soul.
Well folks, I can happily report I found a solution. I ran out of pine nuts (yes, paid an arm & leg and am limping a little…), already had a pot of pasta boiling away with basil & garlic in the food processor. Uh oh, what to do? Don't panic, woman, I told myself…and my eyes settled on an oblivous pack of sliced almonds.
The pesto turned out great! It was nutty, herbal, garlicky perfection. It also worked wonderfully as a spread on sandwiches, crackers, and even toast. You can add it on any pasta to make a pasta salad for lunch or as a quick & filling hot dinner.
Pine nuts, you shall haunt me no more in the grocery aisle.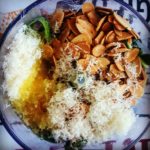 Ingredients
⅓ cup sliced almonds (you can also try it with pumpkin seeds or walnuts)
2 cups packed fresh basil leaves (about 3 ounces or 2 large bunches)
¼ cup grated Parmesan cheese (use 1 Tbsp. Nutritional yeast for vegan version)
1 tablespoon lemon juice
2 cloves garlic, roughly chopped
½ teaspoon fine sea salt
½ cup extra-virgin olive oil
Instructions
In a medium skillet, toast the almonds over medium heat, stirring frequently (don't let them burn!), until fragrant, 3 to 5 minutes. Pour them into a bowl to cool for a few minutes.
To make the pesto, combine the basil, cooled almonds, Parmesan, lemon juice, garlic and salt in a food processor or blender. With the machine running, slowly drizzle in the olive oil. Continue processing until the mixture is well blended but still has some texture, pausing to scrape down the sides as necessary.
Taste, and adjust if necessary. Add a pinch of salt if the basil tastes too bitter or the pesto needs more zing. Add more Parmesan if you'd like a creamier/cheesier pesto. If desired, you can thin out the pesto with more olive oil. (Consider, however, that if you're serving the pesto on pasta, you can thin it with small splashes of reserved pasta cooking water to bring it all together.)
Store leftover pesto in the refrigerator, covered, for up to 1 week. You can also freeze pesto—it goes great in an ice cube try. Once frozen, transfer to a freezer bag, then you can thaw only as much as you need later.