New Zealand is one of the most beautiful countries in the world!
There are 2 islands in New Zealand: North & South. While North Island in New Zealand is a fantastic travel destination, the scenic beauty & wilderness of South New Zealand is seriously epic. The panoramic drives, hiking (called Tramping in NZ) and the range in outdoor vistas — from mountains & glaciers to valleys & wineries, lakes & bustling cities nestled by them, was just staggering.
South New Zealand Highlights
Lake Tekapo
Abel Tasman Glacier
Kaikoura
Wanaka
Hawea
Queenstown
Milford Sound
Fiordland National Park
Fox/Franz Josef Glaciers
Mt. Cook National Park
Mt. Aspiring National Park
The Catlins
Dunedin
Otago Peninsula
Abel Tasman National Park
Good for
Couples, Solo travel, Adventure travel, Road trip, Outdoors, Wineries, Wilderness, Diversity of views

Time to Explore & Best Time To Go
Minimum 1 week, good for 10 days, ideally 3–4 weeks to experience the full island.
November — February (summer in NZ)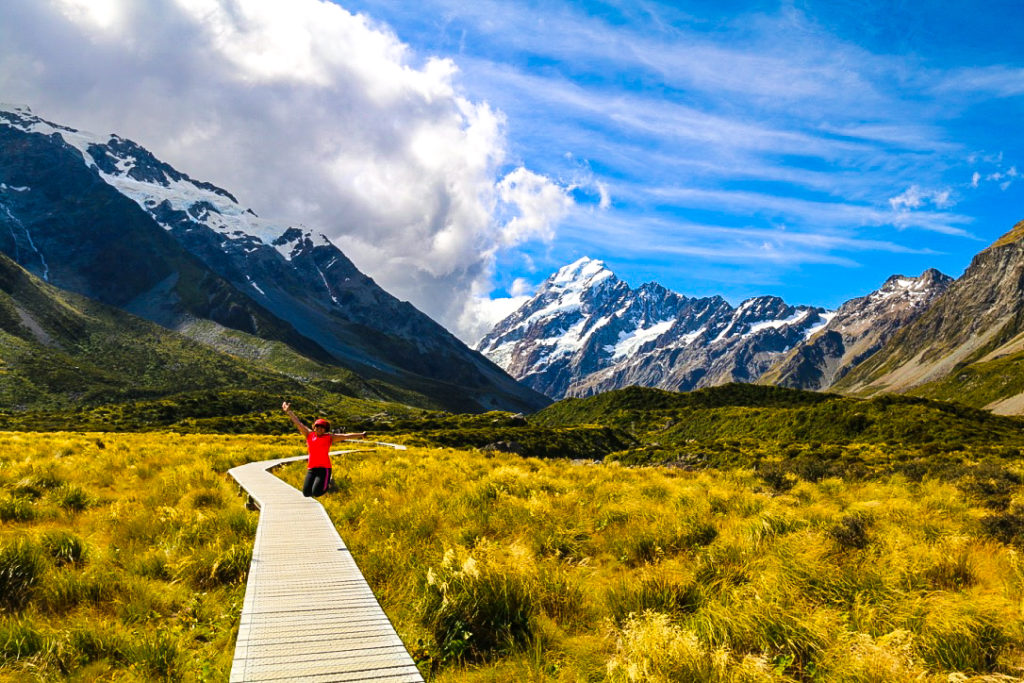 Top 5 Travel tips
Rent a 4WD if possible, it will give you maximum leverage if driving through National Parks, and off-roading.
Watch out for the rain and scorching heat, best to take layers.
Sunscreen & insect repellant are musts, as summer is sandfly season.
Locations such as Lake Tekapo, Milford Sound, Queenstown & Wanaka are tourist heavy, book accommodations early to avoid disappointment.
Drive on the left side of the road!
These 17 pictures serve proof of South New Zealand's sheer scenic majesty and why it's oh-so bucket list worthy.
SUNSET AT LAKE TEKAPO
The spectacular lake is shielded by mountains and on its banks is the famed Church of Good Shepherd. Depending on the season you go, you might even see blooming lupin flowers, making for one surreal setting.
STARGAZING AT LAKE TEKAPO
Lake Tekapo is part of the UNESCO Dark Sky Reserve, making it one magical place for stargazing. I've never seen stars like this in my life! The summer sun sets by 10 PM and in half hour, you can clearly see the milky way band with your naked eye. Staring up at shooting stars & a blanket full of twinkle in the sky in the solitude of the night, with the lake's gentle waves lapping behind you, is pretty ethereal.
LAKE PUKAKI
The turquoise lake with crystal clear water overlooking Mt. Cook is a fantastic spot for a picnic.
MT. COOK NATIONAL PARK
The only thing more stunning than driving through Mt. Cook national park is actually tramping in it. The trouble is going to be in choosing which awesome track to explore.
Here are the top 5 tracks: Hooker Valley Track, Sealy Tarns Track, Tasman Glacier View Track, Governors Bush Walk, Kea Point Track.
THE SCENIC DRIVE THROUGH LINDIS PASS
Driving through South New Zealand is a sheer joy!
LONE WANAKA TREE
Wanaka is a ski & summer resort town, popular with adventurers & relaxation seekers alike. Folks chill out here by the lake, or take in the boutique shops & charming downtown and use it as a base city for day trips & activities around the area.
THE RIDICULOUSLY CUTE SHEEP
Human, I'm grazing.
These.insanely.cute.sheep!!! I wanted to scoop them & cuddle them & bring them back home with me! But uhh.. that would be illegal & possibly traumatic for the sheep.
MT. ASPIRING NATIONAL PARK
This is where a 4WD comes in handy, as there are 9 "fords", ie, massive wide & deep potholes that flood when it rains. I saw so many cars turn around! We ourselves parked our 2WD after ford #4, and walked the rest of the way. But how can you complain with this view!! Also, this is home to the Rob Roy Glacier Track, which is a sublime walk.
SUNSET AT TE ANAU DOWNS
The often overlooked Te Anau Downs, is a terrific spot to catch a sunset or sunrise.
THE DRIVE FROM TE ANAU TO MILFORD SOUND
This is rated as one of the most scenic drives in the world and rightly so: there are so many gorgeous pit stops along the way.
LAKE MARIAN
One of the most beautiful hikes, en route to Milford Sound. The good news is, it's highly underrated & not as well known just yet. But something tells me it's not going be secret for too long….
MILFORD SOUND
In Fiordland National Park, this is one arm of a New Zealand fiord. I highly recommend a boat cruise or kayaking here.
THE DRIVE FROM TE ANAU TO QUEENSTOWN
The roads are windy, but oh-so-beautiful.
QUEENSTOWN
Home to world-class adrenaline pumping adventures: bungee jumping, sky diving, luging and the world's longest canyon swing. The thriving downtown has fantastic eateries & bars, and during summer, there are impromptu outdoor concerts. Perfect for date night!
THE DRIVE FROM QUEENSTOWN TO GLENORCHY
Yet another breathtaking drive, the mountains seem get to closer with each turn, through to the town of Paradise… all of which will make you question if you are actually in Paradise.
GLENORCHY
The perfect place to kayak & explore Lake Wakatipu or simply go for a stroll. Alternatively, if you're itching for tramping, the magnificent Routebourn Track is nearby. (2–3 day hike or you can do a portion as a day hike.)
WATERFALLS
Waterfalls are exalting & mind-blowing no matter how big or small or where you see them.
This is just a glimpse into spectacular South New Zealand, where you're sure to find boatloads of Mojo!