Contrary to popular belief, not all Californians like Kale.
Some of us think it's as dreadful as Lettuce, and about as exciting as Zune (I'm looking at you Microsoft! No one cared about Zune, okay! I know you tried, but iPods were just the best.)
While contemplating my unhealthy obsession with healthful Kale, I came across this recipe from Food & Wine magazine, which recommended adding wine to sautéed Kale.
WINE & KALE! What a genius idea!!
It was delicious! With cannelini beans, hot pepper flakes, artichoke & wine oh my it was heaven. And just like that, Kale was more relevant than Zune.
To get the creamy texture, sans cream cheese or cream I used Tahini. This humble Mediterranean sesame sauce is how Hummus gets its creaminess! The dip was creamy, thick, salty with a kick, oh-so-flavorful and the wilted, wine drenched Kale totally passed for Spinach.
This. Californian.Is.Literally.Drunk.On.Kale.
You won't catch me wine-ing about this recipe 😛 (I couldn't resist, that pun was calling my name!)
If you make this recipe, I'd love to see your creations – tag us on Instagram with #findmymojyo to be featured on our stories!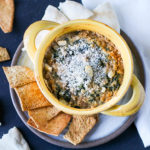 Ingredients
1 large shallot, thinly sliced
1-2 garlic cloves, minced
1/4 teaspoon red pepper flakes
2 cups fresh or frozen Kale
1 15-ounce can cannellini beans, rinsed and drained
6 Artichoke hearts, quartered (I used 1/2 14 oz. can)
1/4 cup white wine (I used Pinot Grigio. Chardonnay or Sauvignon Blanc work well too; Any dry white wine)
2 tbsp Tahini (I used Trader Joe's fresh Tahini sauce)
1/2 cup Parmesan cheese, grated - divided. (for Vegan version, use Vegan Parmesan Cheese or 1/4 cup Nutritional yeast)
1/4 tsp lemon zest
2 tablespoons olive oil
Salt & Pepper to taste
Instructions
Preheat the oven to 400 degrees F.
Heat oil in a large nonstick skillet. On medium heat, sauté the shallot till translucent. Add the garlic, red pepper, salt and cook for a minute.
Add the Kale and sautee till it softens, about 3 minutes. Add the white wine and simmer until evaporated, 2 minutes. Set aside.
In a small food processor, puree the beans, olive oil, artichokes, tahini, lemon zest, 1/4 cup parmesan cheese, 1/4 cup water until smooth.
Add the white bean puree to the kale mixture, stir to combine. Top with the remaining cheese.
Bake in the oven for 15 minutes or until the cheese has begun to brown. Serve warm alongside crackers or pita for dipping.