My family has an obsession with Eggplants.
How obsessed? My family sees eggplants in stores, and starts displaying the enthusiasm of a K-Pop Stan & Swiftie combined. (K-pop Stan = Korean Pop fans; Swiftie = Taylor Swift fans respectively, for those not conversant with the terms. I have teenage nieces who educate me (with heavy eye-rolls) on my internet lingo.)
My relatives revel in (and are honestly pretty awesomely skilled) in all the variants they can make with eggplant. My family even has a quote over the greatness of eggplants. No folks, really, I'm not joking.
"There is no God greater than Shiva and no vegetable greater than eggplants".

Not making this up. Ask my Giri Babayee, and he will wow you with this.
So YEAH. When you confer divine status to a vegetable, well, THAT'S when you know you've got a Grade-A certified obsession with eggplant. 🙂 And I LOVE my family for it. Food love runs deep in our familia.
Once you try this dish, Gutti Vankaya, the obsession makes complete sense. There's a ton of eggplant dishes from Andhra, in South-eastern India – smoked eggplant chutney, deep-fried eggplant, eggplant in cilantro-chili sauce, eggplant in peanut/sesame sauce, eggplant fried rice & stew. But Gutti Vankaya, is an absolute classic: Eggplant stuffed with chickpea flour & spices. It's crispy on the outside with toasted chickpea flour, gooey & mushy on the inside, bursting with cumin, coriander & curried eggplant goodness. There's several variations – with roasted peanuts & coconuts; baked vs. fried; some like a gravy curry. My version pulls the most trustworthy source I have on this recipe: my Mom. Or as I call her, Amma.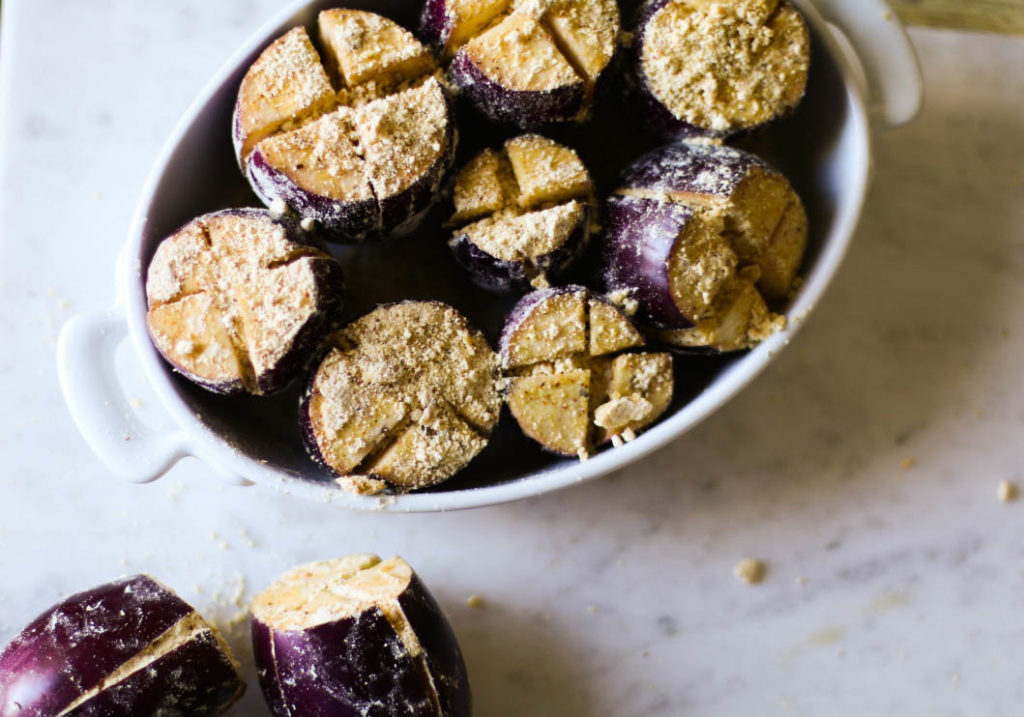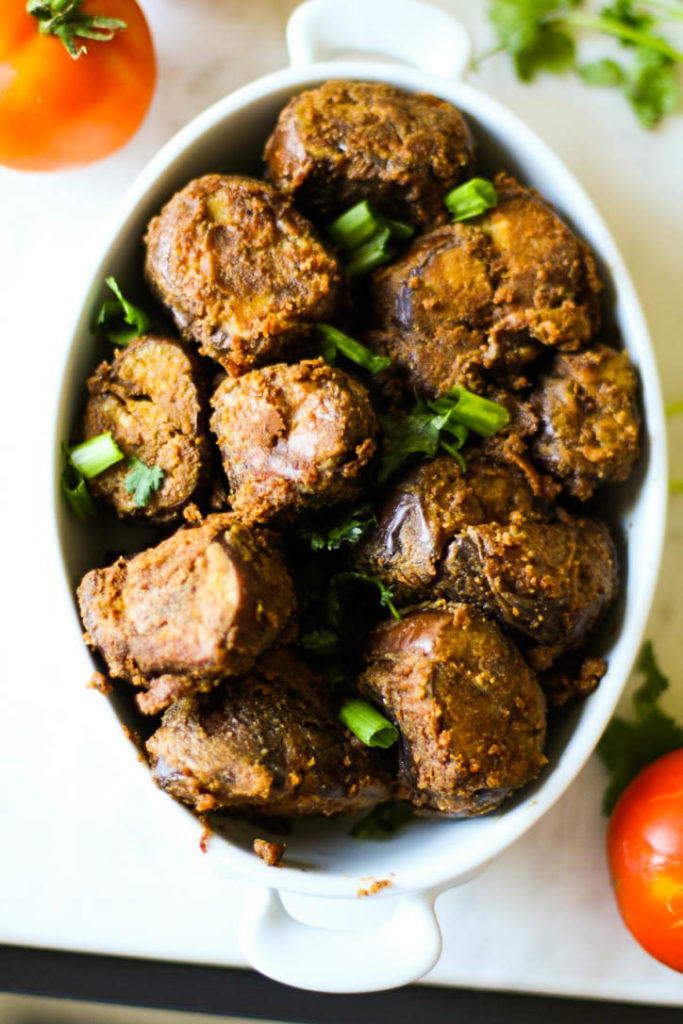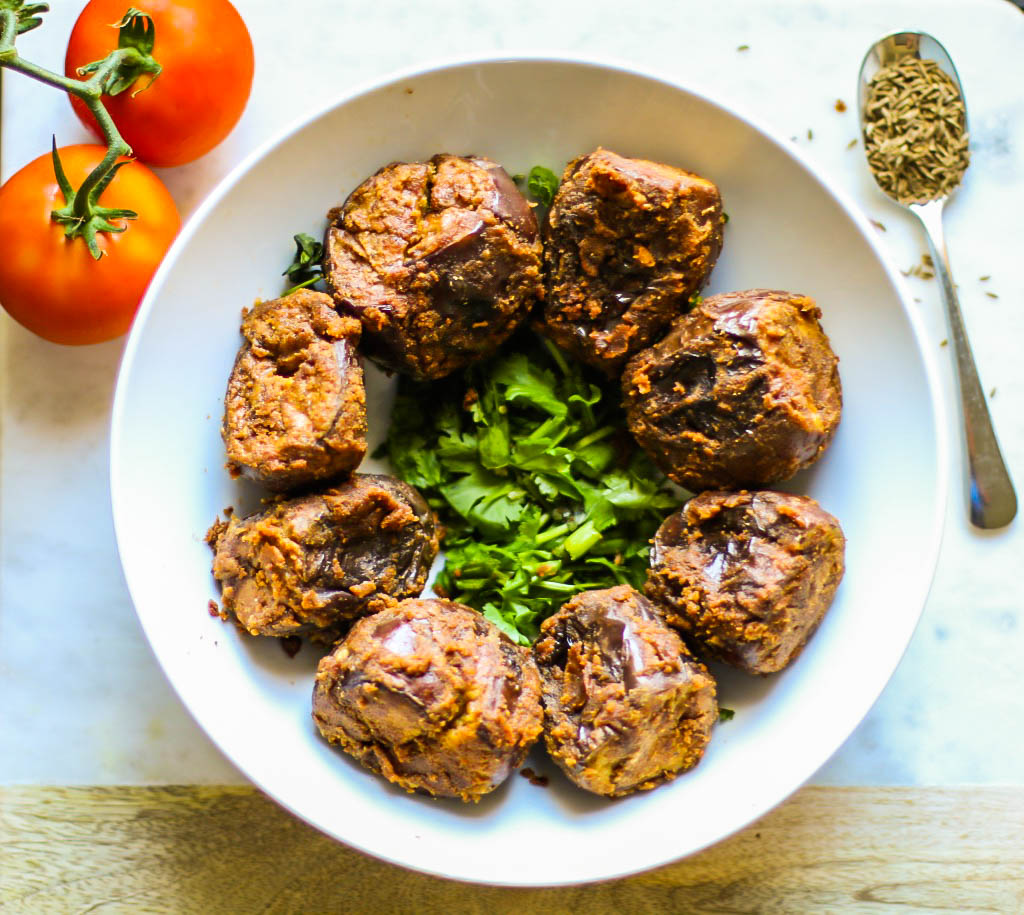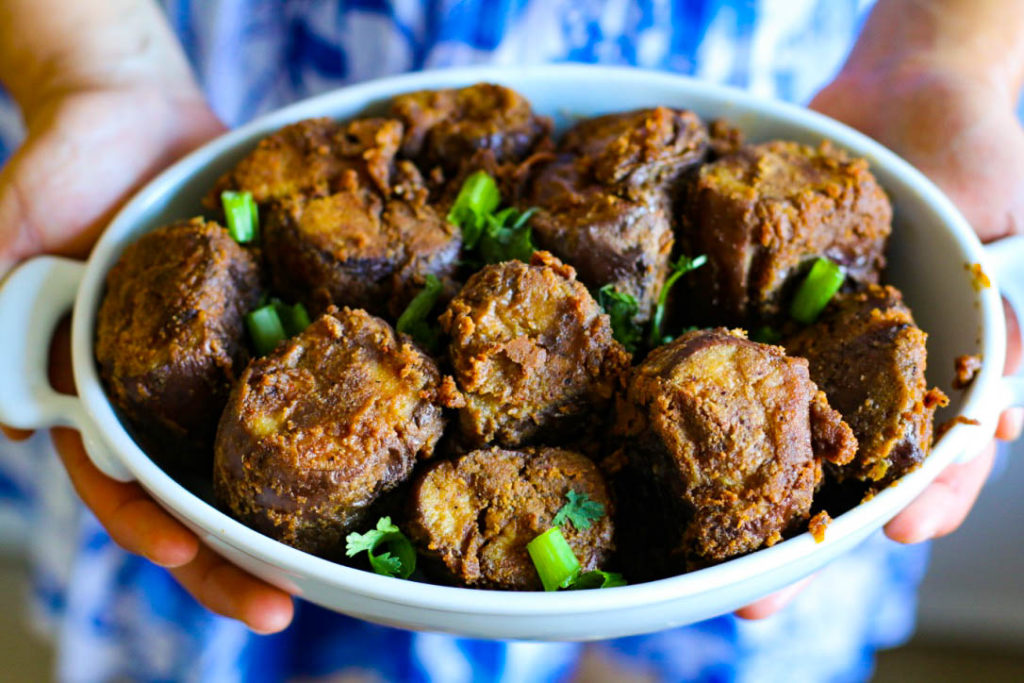 So here is my Mom's quick and easy, but insanely savory & flavor imploding Gutti Vankaya! If you try this recipe, tag your creations with #findmymojyo on Instagram to be featured on our stories. I'd love to see your pictures and what you come up with, eggplant, ahem the greatest vegetable ever!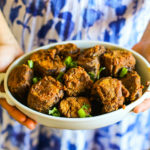 Ingredients
9 baby eggplants (purple or green Thai eggplants)
1 cup chickpea Flour (Also called "Besan" or "Garbanzo flour" or "Gram flour")
1 tsp Cumin Seeds
1/2 tsp Chilli powder
1.5 tsp Coriander powder
1.5 tsp Cumin powder
Salt to taste - I like to use about 1 - 1.5 tbsp
6-7 tbsp cooking oil (Sunflower oil or Canola)
3 tbsp milk (for vegan version, use Coconut milk)
Cilantro or green onions for garnish (optional)
Instructions
In a mixing bowl, combine Chickpea flour, cumin seeds, chilli powder, coriander powder, cumin powder, salt and cooking oil, till it makes for a slightly lumpy, crumbly mixture. This is the stuffing for the eggplants.
Chop the crown off the eggplant & make a criss-cross of slits, 3/4 of the way, till the end of the eggplant.
Stuff the stuffing into the eggplant slits, taking care to not tear the eggplants. Don't overstuff it though - or else it won't cook as evenly. I like to open the slit and drizzle in the stuffing powder till it fills up the eggplant. Preserve any excess stuffing, to add to the curry. 
Heat about 4-5 tbsps oil on a skillet, on medium to low heat. Once heated, add the stuffed eggplants to the pan, Cover with a lid.
Keep turning the eggplants, till cooked thoroughly. 
Sprinkle excess stuffing on the eggplants, chickpea flour burns super easy - keep flipping the eggplants and add a bit of oil if needed. 
When the eggplant looks cooked (eggplant skin will get wrinkly and the stuffing + inside of the eggplant will look mushy), add 3 tbsp of milk on top of the eggplants.
Remove from heat and garnish with cilantro and green onions. 
Notes
I like to do a taste test when the eggplant and chickpea flour mixture starts to look cooked - if cooked, you should be able to taste the spices and you will get a dense flavor. If uncooked, it will taste raw and powdery.