This delicious soup gets you feeling warm when it is cold outside. Bold on flavor & creamy, it's got roasted cauliflower & sweet potato with Thai spices, like lemongrass, galangal, ginger & a dash of maple syrup.
This soup is:
Sweet
Tangy
Hearty
Savory
…a pretty wonderful comfort food!
If you make this recipe, I'd love to see your pictures! Tag your creations with #findmymojyo on Instagram to be featured on our stories!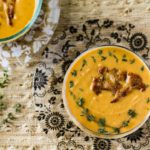 Ingredients
1 small head cauliflower, cut into florets
2 Tsp Olive oil
2 large sweet potatoes/yams, peeled and cut into 1-inch cubes
1 large onion, diced
2 garlic cloves, minced
1 tablespoon Thai curry paste (I used green curry paste; you can also used red or yellow curry paste)
1 15-ounce can full-fat coconut milk
1 tablespoon maple syrup
2 tablespoons fresh lime juice
Salt & Pepper to taste
Instructions
Preheat the oven to 425°F. In an oven-safe pan, toss the cauliflower with 1 tablespoons of the oil and 1/2 teaspoon salt. Arrange in an even layer. On a second sheet pan, toss the sweet potato with 1 tablespoon oil and 1/2 teaspoon salt & pepper. Roast for 30 minutes, or until the vegetables are tender and caramelized.
In a large stockpot, heat 1 tablespoon oil. Saute the onion over medium-high heat until soft, about 3 minutes. Add the garlic and curry paste. Cook for a few minutes, till fragrant.
Pour in the coconut milk and 2 cups water, mix well & bring to a boil.
Remove the roasted cauliflower & sweet potato from the oven and add to the pot. Add maple syrup & lime juice and simmer to a gentle boil.
Puree using an immersion or standing blender, until desired consistency is achieved.
Add more curry paste or salt if needed. Voila!
Notes