Sadako Sasaki's big, brown eyes were filled with light & curiosity, as she leaned in towards her grandma. Two wrinkled hands, peppered with brown spots were in an intricate choreography with paper: folding them, meticulously overlapping them and breathing life into them, to conjure birds.
"Paper cranes," whispered grandma. "Anyone who folds one thousand cranes, will be granted a wish!". Grandma handed the paper crane to Sadako. The two year old's eyes grew wider, as she reached to grab it. In a flash, the house was emblazoned in white light and filled with the sound of explosion. Outside, past the shattered windows & the remnant of what was once a house, was the girl, enshrouded in ashes & debris, her tiny hand covering a charred paper crane.
It was August 6, 1945. The city was Hiroshima, and the world's first atom bomb had just been deployed.
I recommend everyone visit Hiroshima at least once. It is a remarkable city, that stands testament not only to the first-hand horror of a nuclear attack, but also to that of resilience & hope. It is the one place in the world where you can see both the extreme destructive & creative capacity of humanity.
I was profoundly moved on my visit here, and long after I had walked through the peace memorial site, a solitude lingered that I did not want to dismiss. I could not stop replaying what it must have been like for Sadako Sasaki and many others like her, hibakusha, "atom-bomb affected people".
Here are 9 reasons why going Hiroshima is life changing:
A-bomb dome site
The site where the atom bomb was dropped was a military intelligence center. Standing by the ruins is a somber reminder of how temporary our grandest constructions & most pressing concerns can be.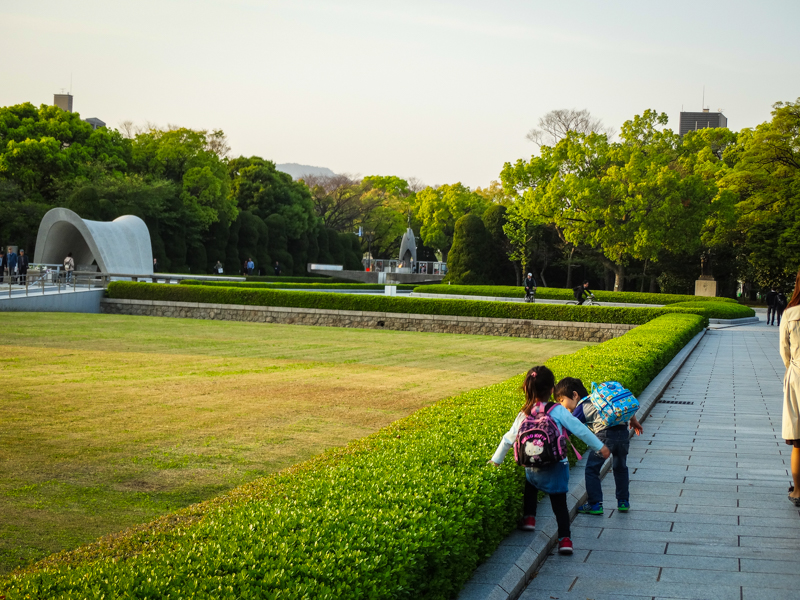 The memorial park was built on the field created by the explosion and is a beautiful tribute. In the center of the arc, is a cenotaph, containing the names of all those killed by the bomb. The architect framed the arc to align with the A-dome, as a reminder of what happened; and a peace flame, representing a current commitment to future peace. (more on that below).
The sight of these two children, running care-free in the park was very stirring. Here was a field, where an atom bomb had been deployed, generations of citizens had run from the bomb, only to be purged overnight or to suffer the effects of radiation over the years to come. Less than 50 years later, here were children, running on the same field, with joy & innocence. These children descended from those survivors, making way for the future. It was a reminder of how each of us inherits a present, that our ancestors & families fought so hard to create for us. We are here, because of the path they paved for us. Life finds a way, but also those before us, made it so.
Peace Flame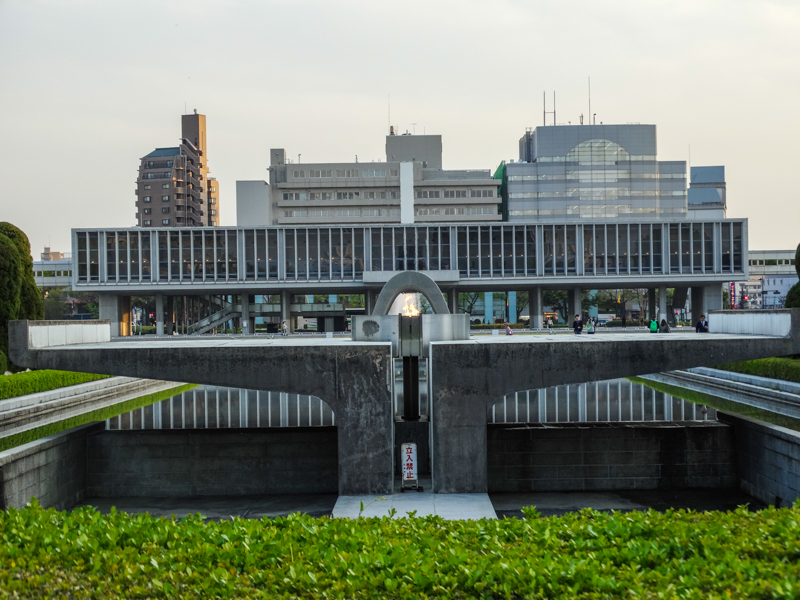 The peace flame was first lit in 1964 and is a symbol of commitment to world peace. It will remain lit till all nuclear weapons are destroyed & along with it, the threat of nuclear annihilation.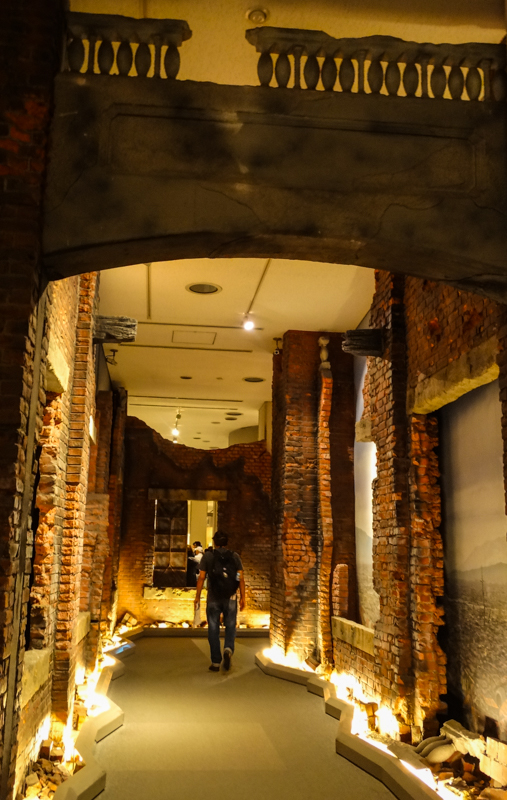 The museum has several exhibits, films & memorophilia, including the history of world war 2, Hiroshima's role in the war & harrowing accounts of survivors & families affected by the bombing.
Children's Peace Memorial
This commemorates the children of Hiroshima, who survived the bombing and went on to suffer the after-effects of radiation, such as skin deformities & growth issues. It includes the story of Sadako Sasaki, who at age 2, survived the bombing and was caught in the "black rain", resulting from the bomb. She exhibited no adverse symptoms till she was 8, when she was diagnosed with Leukemia. The story goes, that while in the hospital, Sadako made paper cranes, wanting to make one thousand, to get a wish: to be cured and live. Short on paper, she would use medicine wrappings and get-well present wrappings from other patients. She died at the age of 12. Her story touched many, and she became a symbol of the impact of nuclear war. There is a statue of her holding a paper crane, and it is covered in paper crane garlands, with following message at its base: "This is our cry. This our prayer. Peace in the world."
Hiroshima Okonimiyaki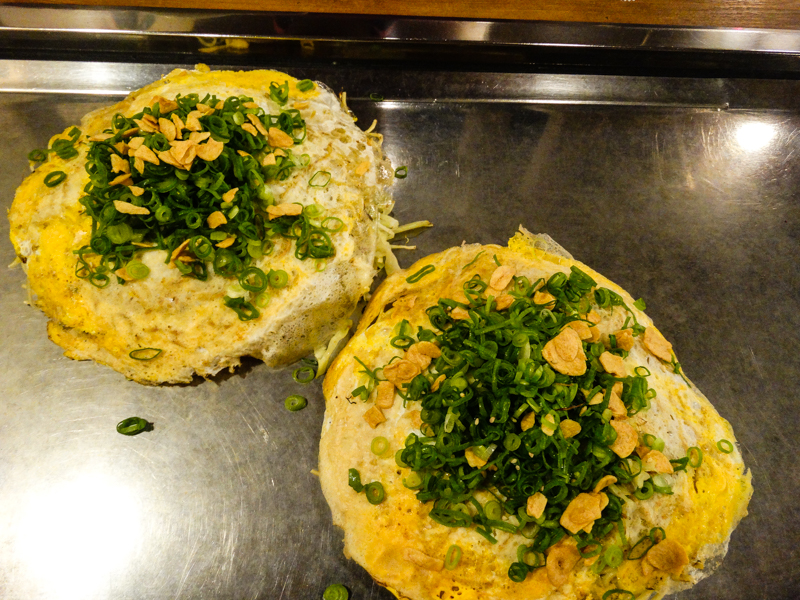 Okonomiyaki is a Japanese pancake, made with rice flour. It's very similar to the South-Indian Uttapam. What's unique about the Hiroshima Okonomiyaki is the addition of soba noodles, along with all kinds of vegetables. Even more reasons to fall in love with Hiroshima, this was one of the most delicious meals I had during my entire trip.
Awe over how much the city has rebuilt itself
85% of Hiroshima's buildings were destroyed by the bomb. It's staggering to believe this, because Hiroshima is such a hustling, bustling city center! I was stunned to learn this is where Mazda has its headquarters. The work to rebuild the city began a mere 3 days after the bombing, and in looking at the city, one would find it hard to believe it was destroyed just 40-50 years ago.
Hondori Shopping Arcade street
For Anime & video arcade fans, this shopping district is paradise!
A center of hope & courage
You walk away with profound respect for the people of Hiroshima. This city makes you realize that in the face of the most atrocious horror, there is great power in hope & courage, and the ability to rebuild & reinvent oneself. For this reason, Hiroshima is worth a visit, it will leave a searing mark in your memory.