I got my Frittata calling early on Sunday morning. Brunch at home with company to boot, what to whip up in a hurry?
I had a hodgepodge of vegetables in my fridge, from potatoes, asparagus, grape tomatoes & spinach. And eggs! So came the idea to make Frittatas. They are amazing because they can do triple-duty: as breakfast/brunch, lunch or dinner. They are really easy & versatile — no matter what combo of veggies you've got, if you have cheese & eggs, you're good to go!
For this recipe, I used Asparagus, Leeks, a Boiled Potato, Spinach, Grape Tomatoes, Onions — because that's what was on hand. And company that came over found it delicious!
Alright folks, let's get to Frittata business here. If you make this recipe, I'd love to see your pictures! Tag your creations with #findmymojyo on Instagram for a feature on our stories!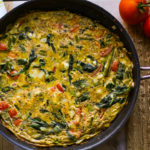 Ingredients
2 cloves garlic
1 shallot or 1/2 onion diced
1/2 cup spinach
1 cup chopped asparagus
1/2 cup chopped leeks
1 small boiled potato
1/4 cup halved grape tomatoes
1/2 teaspoon Trader Joe's 21 seasoning salute (optional)
1/4 teaspoon cumin powder (optional)
8 eggs
1/2 cup of milk or whipping cream
3/4 teaspoon salt
1/4 teaspoon pepper 
Instructions
Preheat your oven to 350°F.
Heat 3 tablespoons of olive oil in a a 10" oven-safe skillet over medium-high heat. Add ½ cup diced onions and leeks, garlic, asparagus, spinach.  I like to add Trader Joe's 21 seasoning salute & cumin powder for bit of flavor - this is optional. Cook, stirring occasionally, until softened, about 5 minutes.
Whisk 8 large eggs in a medium bowl with ½ cup of milk, ¾ teaspoon salt, and ¼ teaspoon pepper. This is your Frittata base, and you can customize it to your heart's content.
Pour the egg mixture into the skillet, and add additional vegetables of your choice. I added in boiled potatoes & cherry tomatoes and feta cheese.
Cook just until edges start to pull away from the pan. This will take 5 to 7 minutes. Transfer skillet to oven and bake until set, 16 to 18 minutes. Enjoy your Frittata!
Notes
I also like to add paprika & dried parsley, in the egg mixture, I find these ingredients go really well with eggs.