The love of good, hearty food runs deep in my family.
My parents are my inspiration for cooking, in our family, we come together when we cook. Whether through watching "Iron Chef" or "Chopped", whipping up recipes passed down from generations, or cooking "fusion foods" over our father-daughter cooking sessions every Saturday, the love of flavors, ingredients, spices has been the glue in our family. Over the kitchen counter, we'd spill a mixture of food & feelings, what was eating at us, pent up thoughts, anxieties unspoken that now had an outlet. Stirring the proverbial pot, so to speak.
One of my dad's favorite things to make, is this Moroccan Lentil Soup. With warm spices like paprika, oregano, cumin & a rich aroma, this hearty soup is super comforting. Paired with Butternut Squash Risotto, it makes for a perfect dinner. An added bonus is your house will smell like a Moroccan spice market once you're done making this soup.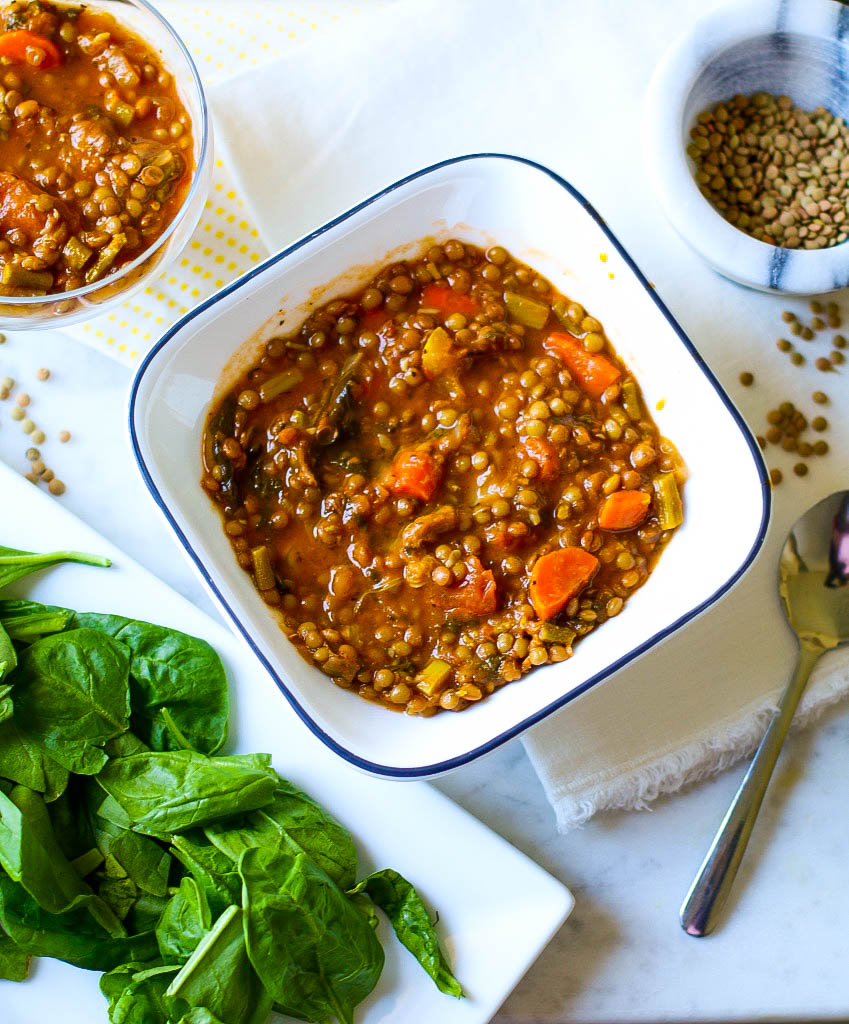 It works well both as a chunky, hearty stew or even if you blend it all up. High in protein, fiber & low in carbs, it's the kind of goodness you don't expect from something that tastes so darn good.
From our kitchen to yours, here's my dad's "man-made" savory, warm & hearty Moroccan Lentil Soup.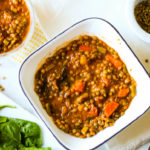 Ingredients
1 cup lentils (you can use green or red lentils, red lentils give a more authentic flavor)
1/2 onion
2 cloves garlic
1 can crushed tomatoes or 1-2 chopped tomatoes
2 carrots
3/4 cup fresh Spinach
1/2 tsp. Dried Oregano
1/2 tsp. Parsley (fresh if you have it, if not dried parsley works too)
1/2 tsp All Purpose Seasoning (I use 21 seasoning spice)
1/2 tsp. Cumin powder
1/4 tsp. Paprika
5 cups Vegetable Broth
1/2 Lemon for freshly squeezed lemon juice
Salt & pepper to taste
Instructions
Sautee the onion, garlic together, then add cubed carrots & spinach to the pot.
Add the canned crushed tomatoes & all spices; when the juice starts to ooze from the tomatoes, add the lentils.
Add 4 cups of vegetable broth, cover the pot and let the mixture boil for 30 minutes on medium heat. Add salt & pepper per your preference.
30 minutes later, you'll see the broth receded and absorbed by the cooked lentils, add the remaining cup of vegetable broth to the pot. Taste test the lentils to see if they're cooked. If still raw, add more broth (no more than 1/4 cup at a time) and continue boiling for an additional 10-15 minutes.
Add the freshly squeezed lemon juice & garnish with parsley & olive oil.