Let There Be Light! 'Tis the season to celebrate: Dress fancy. Eat & dance till you drop. LIGHT.IT.UP! (with diyas of course). No folks, I'm not talking about Christmas or Thanksgiving. It's DIWALI !!
DIWALI is the Indian festival of lights. For Indians or desi folks, as we refer to ourselves, it is the year's biggest & brightest celebration, marked by colorful votives: diyas. Diwali is a celebration of victory, of good over evil, with light washing over dark. There's larger than life fireworks & gift exchanges: think Christmas meets July 4th.
When you have a festival of this epic-ness, it is incomplete without food. It is all fun and games when you dress up fancy, but one would be remiss to not bring the humble sweatpant.
Allow me to explain the Diwali equation:
Infinite food buffets + Violent Indian hospitality
("What do you mean you just ate? You only had 3 helpings!")
= Deadly Exploding Pant Syndrome (DEPS)

Don't ask how I know. I just do, like an Indian Yoda.
Symptoms include heavy breathing, drooling & light headedness from food coma. At peak conditions, one eats so much, one's pants simply explode, resulting in embarrassment & unwanted internet meme fandom that cannot be undone. There is no known scientific cure for DEPS. Only two treatments exist:

a) Don't wear pants (Ie, aforementioned sweatpants are optional)
b) Have a back up plan to get home.
This is my ride home this year.
In trying to set the stage here, I might have derailed off topic completely. Let me attempt a comeback. We're talking Diwali food: there's nothing quite like Diwali DESSERTS!
This year, I'm combining my love of Western fall foods with a classic Indian dessert. Payasam, is a South Indian dessert, a milk pudding infused with cardamom, nutmeg & pistachios. It has a dense & aromatic flavor, and is versatile enough to work with vermicelli noodles, tapioca or even carrots. Why not Pumpkin?
Here's my take on what happens when an Indian classic dessert meets a Western fall staple.
What is this awesomeness? Pumpkin Payasam, homies. If you make this recipe, I'd love to see your pictures! Tag your creations with #findmymojyo on Instagram to be featured on our stories!
Happy Diwali, beautiful people! Wish you all joy, peace, prosperity & much happiness!!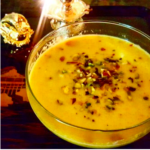 Ingredients
2 cups of diced pumpkin (about 1 inch sized)
3 cups of milk (For vegan version, substitute coconut milk)
3 to 4 tablespoons of sugar 
5 chopped almonds
5 chopped pistachios
5 roughly chopped cashew nuts, optional
1 teaspoon of ghee (optional)
½ teaspoon cardamom powder
½ teaspoon nutmeg
¼ teaspoon cinnamon 
Instructions
Chop and peel the pumpkin to roughly 1 inch pieces.

Bring chopped pumpkin pieces to a boil, simmer till soft.

Strain the cooked pumpkin and discard the water. Mash the cooked pumpkin pieces using a fork or potato masher.

In a thick bottomed pot, add 3 cups of milk. Bring it to a boil by heating it on a low to medium flame.

Once it comes to a boil, simmer the milk gently and keep stirring it now and again, taking care the milk does not catch at the base. Continue cooking the milk this way for 5 minutes. Keep the heat low enough to allow it to boil but not spill over.

After 5 minutes, add the mashed pumpkin puree. Mix well. Bring this to a boil.

Add the sugar. Stir to allow the sugar to dissolve, 1-2 minutes.

As the sugar dissolves, add the cardamom and nutmeg, Add the chopped almonds, pistachios. 

Turn off the heat & enjoy! Payasam can be eaten hot or cold. 
photo credit: DSC_0440 via photopin (license)photo credit: Corso Carrellisti via photopin(license)