Acai bowls are having their moment in the sun. Acai…How the heck do you pronounce it anyways?
Glad you asked, dear reader, I've happily embarrassed myself enough times, so you don't have to. I walked into a smoothie bar in San Francisco & asked for an "Eh-Kay-ee" smoothie. The barista threw me the same sympathetic look I've seen the judges on America's Got Talent reserve for the 8 year old they have to say no to – "hon, did you mean to say Aaah-Sigh-ee"? I flipped my hair & pulled myself to my full height (all glorious 5″1 inches of it). "Pssh..Ofcourse that's what I meant!," I huffed amidst giggles.
This Acai Coconut bowl is loaded with anti-oxidants, thanks to the Acai, which is basically a super dark cherry. It is
Tart
Tangy (from the pineapple & mango)
Sweet (from banana & honey)
Crunchy (from granola, Chia seeds)
I also added kiwis & figs to give my toppings even more texture. Acai bowls are great for breakfast, as a snack or even dessert. Eating a bowl just might make you feel like you're on an island vacation.
Sigh, Aaah-Sigh-ee, let's go there now!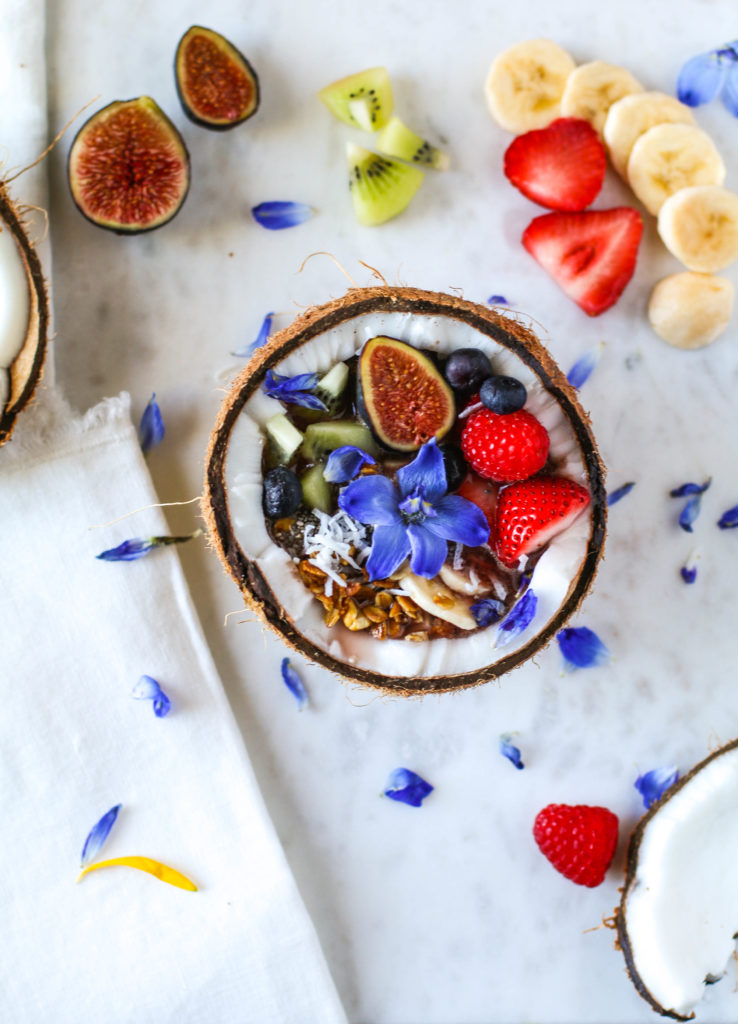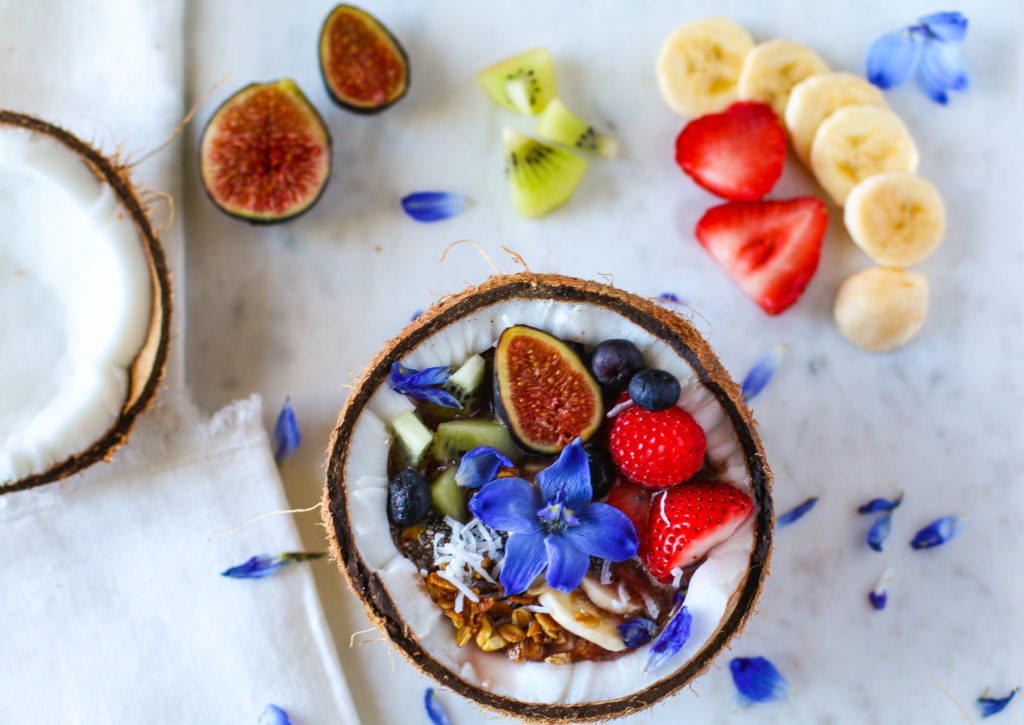 If you make this recipe, I'd love to see your pictures! Share your creations with #findmymojyo on Instagram to be featured on our stories!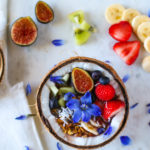 Ingredients
1 pack 3.5 oz. unsweetened frozen Acai Puree (Here's what I use)
1/2 tsp Maple Syrup (alternatively, use Agave Syrup or Vanilla extract)
1/2 frozen banana
1/4 cup frozen pineapple
1/4 cup frozen mango
1/3 cup coconut milk 

For Coconut Bowl & Toppings:

1 coconut, split into two halves
1/2 tsp Granola
1/2 tsp Chia seeds
Chopped fruits of your choice: I used strawberries, bananas, apples, figs, kiwis
Drizzle of honey & shredded coconut if you want more sweetness & crunch
Instructions
Blend all the smoothie bowl ingredients together. If you prefer a thick smoothie, cut down on the milk/water. If you prefer a liquidy smoothie, increase the milk/water added.
Crack open the coconut using a hammer. Hammer evenly by the 'equator', aka center of the coconut. Make sure to get the fresh coconut water!
Pour in the smoothie into the coconut halves.
Top with your choice toppings, as desired!