What if I told you could drive by turquoise blue lakes, into the belly of mountains and see icebergs, glaciers, epic vistas, all in one afternoon?
Yes, you can! At New Zealand's most popular day hike, Hooker Valley Track in Mt. Cook (Aoraki) National Park.
Sir Edmund Hillary, who along with Nepalese Sherpa mountaineer Tenzing Norgay was the first to summit Mt. Everest, practiced mountain climbing at Mt. Cook, at this very national park. You know, just for fun. If it's good enough for Eddie, it's good enough for me.
If you're looking for a walk that has sweeping views of the mountains, glaciers, swing bridges with glacial rivers and one that can be completed by folks of all fitness levels, with ease — this is your bet. It's a kid friendly jaunt as well.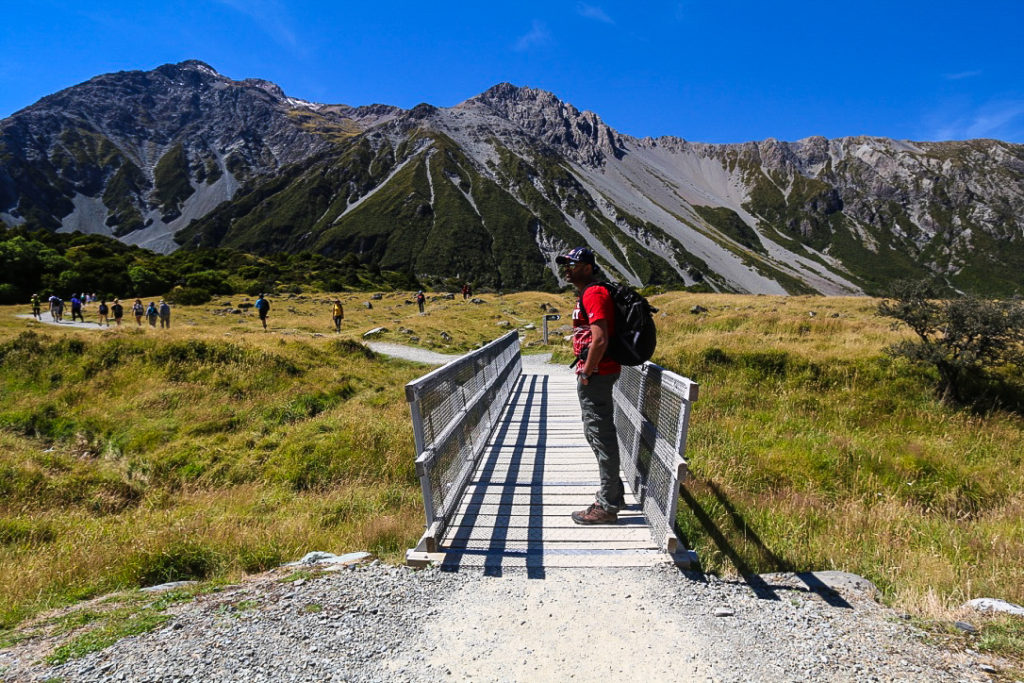 The trail is well maintained, with boardwalks and swing bridges leading the way. On a clear day, you can see the glaciers on multiple mountains. It's a 3 hour round trip, 1.5 hr each way, I would budget 4 hours in case you want to linger longer for pictures or a picnic.
Here's us at the trailhead. There's a shelter nearby with stoves, benches, restrooms & water where you can prep food & grab water.
20 minutes into the trail, you can see Mt. Mueller & the glacial river at its base with the first swing bridge of 3.
Look at how cool this swing bridge looks!
Despite being surrounded by mountains the entire time, the trail is fairly flat.
Here's swing bridge #2, and there weren't always just 20 people on it !
Once you're past this, you'll approach these boardwalks, which of course make great selfie spots.
Look Ma, no hands!
I had a very hard time choosing which photos to share with you, and this is one my favorites from the walk.
At the very end of the trail, you are rewarded with the view of Hooker Valley lake, by the base of Mt. Cook. You can see the three floating icebergs glowing blue, like they captured a light that's trapped & frozen in them forever. It did get fairly chilly once we got closer to the lake, I recommend taking a light jacket. Unless you know, you're a cold-blooded Ninja — in which case, much respect to you, Madame/Monsieur Ninja.
I will say, that after walking through such beautiful scenery, Hooker Valley Lake itself didn't feel breathtaking, although it was very cool to walk to the base of the lake. This was a case of the journey being more worthwhile than the destination itself.
On the way back, you get to walk past those gorgeous sights again!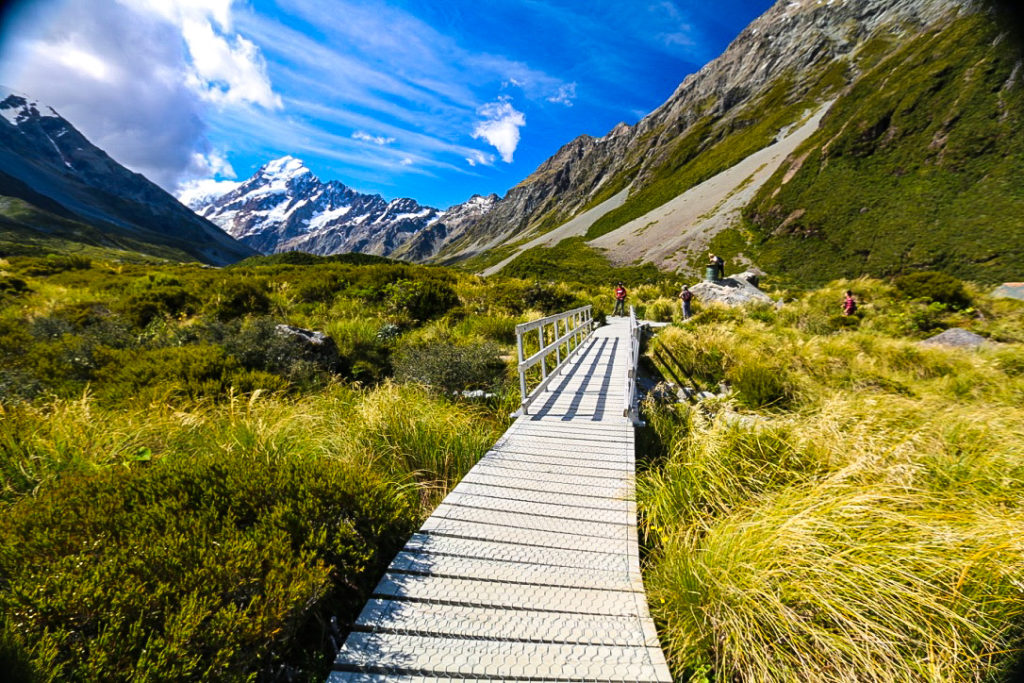 Hooker Valley is considered New Zealand's most popular & premier day walk. Easy accessibility, a well paved trail & its suitability for all fitness levels make it a memorable & must-do day walk.
Planning Your Trip
What To Take
Sunscreen
Hat
Sunglasses
Insect repellant
Water
Lunch/snacks (if you want to eat at the end of the trail)
Camera!
As with any hike, you'll want to check the weather, we were fortunate to get a beautiful, sunny day at 23 degrees Celsius. But even with such a sunny day, it got chilly by the glacier & icebergs and scorching hot on the trail, so best to be prepared with layers.
Best Time of year
Summer (November — February)
Other hikes to do in Mt. Cook National Park
Other Activities
Glacial Kayaking, Horse Trekking, Stargazing, Boat Tours for Glacier exploration, Biking, Helicopter Tours
Where to Stay
Budget | Mt. Cook YHA (Hostel)
Motel | Aoraki Court Motel
Lodge | Aoraki/Mt Cook Alpine Lodge
Hotel | Hermitage
Accomodation also available (& cheaper) in nearby towns: Twizel, Tekapo, 30–40 mins away.
Good for: Walking, Beginner — Advanced Hikers, Mountaineers, Kid friendly, Glacier exploration, Epic Mountain views, Nature & Scenery.
Pin this for reference!